Casio Pro Trek Smart Wear OS watch has potential weeks-long battery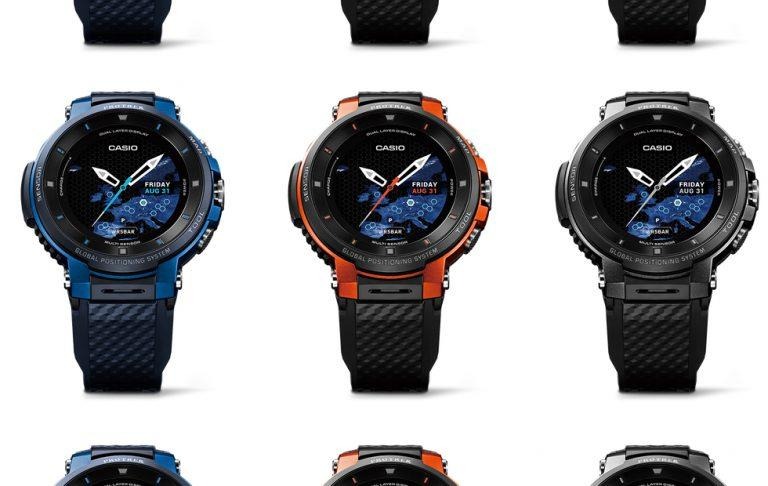 Casio revealed a smartwatch this week with Google Wear OS on-board – and metal outside. This smartwatch was revealed with three color options for exterior casing metal – black, blue, and orange. This is the sort of smartwatch you'd wear if you were risking your life to go on a James Bond-type adventure scaling the fully-vertical side of a jagged rock-bottomed crevice. It'll survive more inclement weather than you can.
The watch's model number is WSD-F30, and it's rolling with Color Maps. That's just a fancy way of saying it has a color display, really, but that's not always a given when it comes to watches made by companies that've made watches for more than a decade. Casio included here a 1.2-inch dual-layer display with Color OLED as well as monochrome LCD.
So you'll have color when it makes sense to have color, and monochrome when it's time for black and white. This allows the watch to have the benefits of a top-notch colorful device while it retains extreme battery life.
Casio suggests that with normal use using only the color display, this watch will last approximately 1.5-days. With "Multi Timepiece Mode" (timekeeping and sensors only), this watch is said to last approximately 1-month. That's crazy! With a magnetic (wireless) charger, this watch is said to charge fully in approximately 3 full hours.
BELOW: The new F30 vs the F20 – the changes between these two generations are very few, on the surface. But beyond that – it's got the new Wear OS announced this morning, and it's... refined.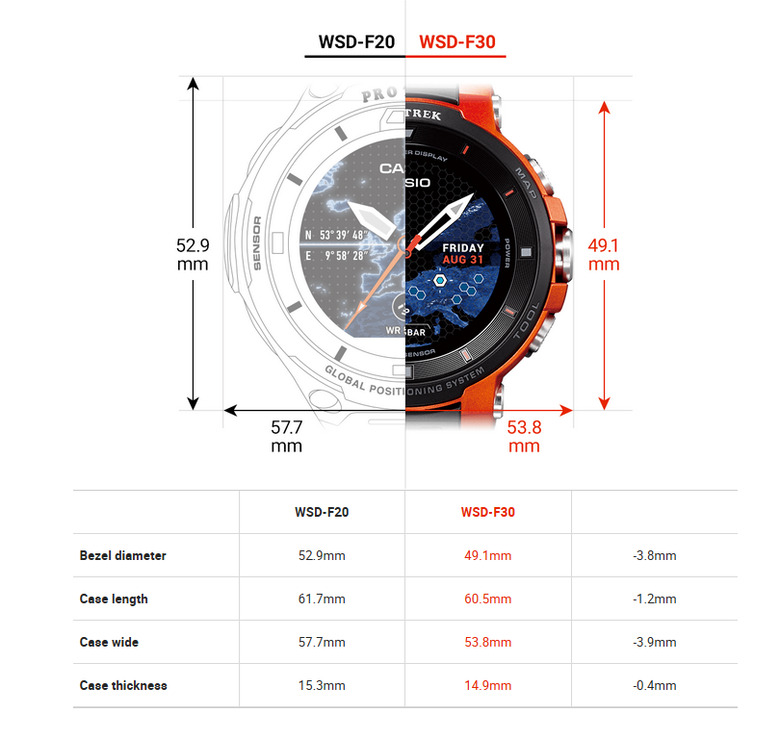 The touchscreen here also has what Casio describes as "anti-fouling coating." Buttons on this watch include a MAP button, a Power button, and a TOOL button. I'm sure will figure out what each of these does when we get the device in for review – for now, courage.
Environmental durability on this device is MIL-STD-810, with low-temperature resistance down to -10-degrees celcius. Inside this watch is a single lithium-ion battery and Bluetooth 4.1 (LE), Wi-Fi, pressure sensor (air pressure, altitude), accelerometer, gyrometer, and a magnetic compass sensor.
Each of the three models will include an AC adapter and special charger cable. Casio suggests this Pro Trek Smart line will arrive in late January, 2019. Then we'll see the WSD-F30-BK in black, WSD-F30-RG in orange, and the WSD-F30-BU in blue. We'll share pricing as soon as we're able.
Above you'll see the full press conference where this device was first revealed. It's almost an hour long video – so strap in!