Casio EX-10HG hybrid-GPS digicam coming October for $400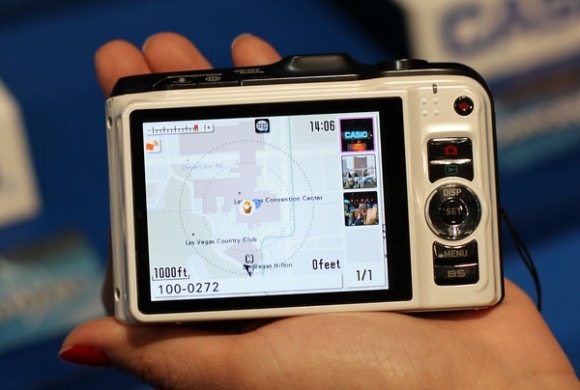 Casio's concept GPS-enabled camera, shown at CES 2010 last month, has been given a release schedule and estimated price tag.  Photography Bay have been pestering Casio for details at PMA 2010, and the company have confirmed that the Casio EX-10HG is expected to go on sale in October this year, costing around $400.
The EX-10HG has a 12.1-megapixel sensor and optical zoom, but the real interest is in its hybrid-GPS system.  Unlike regular GPS geotagging, which simply uses a GPS chip to attach positioning information to an image's metadata, the Casio system offers full PND-style functionality complete with Google Maps.
That means you can browse your photos, pinpointed on a map, directly on the camera itself, but also see other photographer's images that were taken nearby.  It will also offer directions, a digital compass and wayfinder functionality, and Casio are expected to switch out the regular display for a more usable touchscreen.