Casio "digital art" photo frame prototypes promise passive entertainment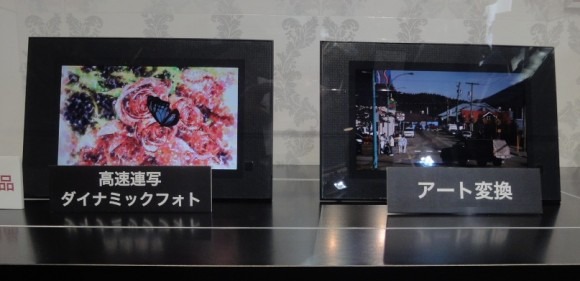 Casio aren't planning to follow Sony down the path of interactive digital photo frames – as Sony have done with their Dash, adding Chumby widget support – but instead see the devices as a passive form of entertainment.  In an interview with Tech-On!, Casio described their intent as turning the digital picture frame into the "third screen", one which can "sensitively adapt to the users' lives and environments."  They've also put together a prototype to show that passive doesn't have to mean passé.
That prototype replaces the power button with a presence sensor, turning on the display only when there are people around to enjoy it.  Meanwhile there's also a more complex image processing unit than you'd usually find in such a frame; that's because the Casio DPF can convert regular photos into painting-style artwork on-the-fly.
Meanwhile there's also WiFi connectivity and – despite the passivity premise – support for Flash Lite 3.0 widgets.  There's also talk of more advanced user-recognition systems, rather than solely presence, which could be used to automatically pull out images to display based on who is looking at the screen.  No word on when – or if – we can expect the prototype to reach production, nor for how much it might retail.