Casio Bluetooth 4.0 Smartwatch Pairs With DoCoMo Android Phone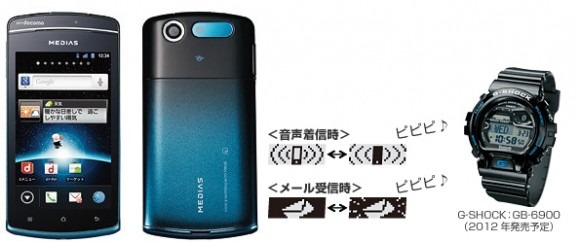 Casio's Bluetooth 4.0 smartwatch plans are nearing fruition, with the first pairing of a low-power wireless watch and Android smartphone headed to Japan's NTT DoCoMo in the next few days. The NEXT MEDIA PP N-01D offers the usual Japanese niceties, like a 4-inch WVGA AMOLED touchscreen, wireless charging, 8.1-megapixel camera, along with water and dust resilience, but can be paired with a special Casio MEDIAS PP-SHOCK GB-6900 watch. Hooked up via a frugal Bluetooth 4.0 connection, the watch shows incoming call and email information, as well as allowing you to reject incoming calls.
There's also the ability to locate your phone, with the PP-SHOCK watch reminding you if you walk away leaving it on a table or down the back of the sofa. Finally, the watch's time is automatically kept up to date via the smartphone's connection. The system was initially demonstrated back at CES 2011 in January, taking advantage of Bluetooth 4.0's advances in reducing power consumption to maintain a persistent link without draining the battery.

Even so, the PP N-01D still brings a decent sized power pack to the party: a 1,700 mAh unit rated for up to 630hrs standby or up to 450 minutes talktime. There's also a 1.4GHz MSM8255 processor, GPS, WiFi and Bluetooth, world phone 3G roaming, and mobile TV support. NTT DoCoMo will also offer wireless file transfers using the inductive charging plate: drop your smartphone down to recharge, and it will automatically transfer your recent photos and videos to your computer.
The DoCoMo NEXT MEDIA PP N-01D phone will go on sale come December 9, and is available to preorder now. The PP-SHOCK GB-6900 watch won't arrive until the new year, however,
pricing tbc
.
Update: We're hearing the GB-6900 will be the equivalent of around $235, and the battery is supposedly rated for a whopping two years based on 12hrs of Bluetooth 4.0 connection per day.