CasaTunes XL Music Server with touchscreen multi-room control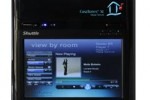 Distributed home audio specialists CasaTools have announced their latest multi-room music server, the CasaTunes XL.  A compact box with an integrated touchscreen, the XL Music Server has 250GB of storage, can serve up to 48 different rooms simultaneously, and comes preinstalled with the company's own CasaTunes control software.  Control is either from the touchscreen itself or any device with a web browser (so a PC, laptop, netbook, iPhone or iPod touch, or most cellphone).
Two versions of the CasaTunes XL are available, the XLi, which supports up to six rooms, and the XLe, which supports 12 rooms out of the box and can be extended to up to 48.  In fact, the CasaTunes XL is based on Shuttle's D10 small-form-factor PC chassis, which comes with a 7-inch touchscreen already fitted, plus room for one optical drive.  In CasaTools case, they then stuff it with a 2.2GHz Intel E2200 processor, 2GB of RAM, a DVD burner and a 250GB hard-drive (with a second, empty bay for future expansion). 
The XLi can support four simultaneous internal sources ( from your iTunes library, music stored in Windows Media Player, as well as music from an iPod, iPod touch or iPhone, and SHOUTcast Internet Radio) while the XLe can support five; they also support external inputs, such as from AM/FM tuners, XM or Sirius satellite radios, which can then be distributed through the home.  The XLi has one external input, the XLe has four; plus the latter can also control external sources via IR, and has input/output triggers for automation.
Both setups require a multi-channel amp and speakers in each room, obviously, and are available now.  The CasaTunes XL range starts from $1,499.99.
Press Release:
CasaTools Introduces Multi-Room Music Server

FT. COLLINS, Colo. –(Business Wire)– Jan 27, 2009 CasaTools, a leader in whole house audio systems, today announced a flexible and easy to set up and use CasaTunes XL Music Server. The CasaTunes XL Music Server comes pre-loaded with CasaTunes Software, a 250GB hard drive, touch screen control and up to nine sources of music, depending on the model. Ideal for the do-it yourselfer or custom integrator, the CasaTunes XL Music Server is the center of a home music solution.

"Many homeowners have created large music collections on their home PCs. Whether these collections originated from CDs or by downloading online music, these collections are tailored to their specific taste," said David Krinker, President, CasaTools. "Our CasaTunes XL Music Server provides a simple way for the family to access these music collections anywhere in the home, enabling each family member to select and listen to their music."

After answering a few simple questions and adding one or more multi-channel amps, such as the CasaTunes XLa, and speakers, CasaTunes XL is ready to go. The 250 GB hard drive defaults to over 1,600 albums, or 20,000 songs, of high quality music. For growing collections, there is an available slot for a second hard drive. New music can be easily added from CDs via iTunes, Windows Media Player or by adding music from the Internet.

The CasaTunes XLi Music Server ships with four built-in internal music sources and one external source for up to six rooms of music listening. While the CasaTunes XLe Music Server ships with five built-in internal music sources and four external sources to control music in up to 12 rooms of a home and is scalable to four external boxes and 48 rooms. Each internal music source is capable of playing music from iTunes Plus, Windows Media, an iPod, iTouch, iPhone and SHOUTcast™ Internet Radio. These external sources can be used to listen to AM/FM tuners, XM or Sirius satellite radios as well as for advanced functionality such as doorbell and paging support.

The XL Music Server has a built in touch screen that is perfectly made for controlling CasaTunes at the Server. Homeowners can also control CasaTunes from Internet browsers from any computer or Internet browser on the local network, controlling the music from either an iMac or a PC. The CasaTunes XL Music Server has a MSRP starting at $1,499 and is compatible with the CasaTunes keypads that will be available this quarter.