Capcom finally makes a wearable Mega Man helmet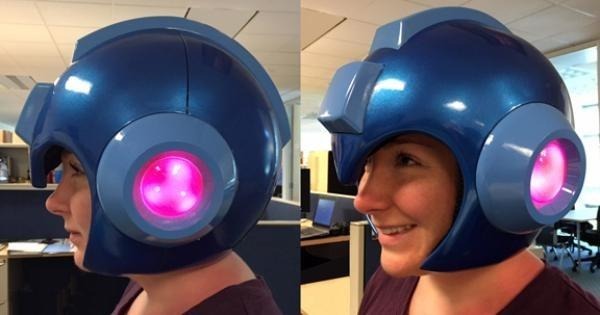 Riding on the good will that was generated when it announced Mega Man Legacy last month, Capcom is giving die-hard fans another but more rare treat. At the San Diego Comic Con this year, the game publisher is putting outs its new wares and collectibles, but one that is bound to steal the spotlight is its blue Mega Man helmet. This isn't just a helmet for show, though it definitely serves this purpose. This helmet is actually something you can wear and even has LED lights for maximum effect!
Capcom says that they finally gave in to popular demand, it it's about damned time. Imagine how many hours, tears, sweat, and callouses could have been saved if cosplayers didn't need to make their own, imperfect replica. Of course, there have been other attempts at making such a wearable helmet but this is the first time Capcom caved in and made an official one.
Made with ABS plastic and design with authentic proportions, presuming they know Mega Man's real-world proportions, the helmet features a rather unique clamshell hinge that allows almost any one of any headsize to wear the helmet. Of course, you'll probably want to minimize your use of the helmet to keep it in its pristine state. Good thing that the helmet comes with a decorated box that is perfect for putting up the helmet on a pedestal.
Sadly, Capcom isn't revealing yet how much the helmet will cost, but you can bet it's going to be pricey. The Mega Man wearable helmet will be on display on SDCC but sales or even pre-orders won't start at the same time.
Of course, that isn't the only thing Capcom will be showing off at SDCC and it isn't even the only Mega Man-related one. For those who don't care much for a life-sized helmet, a mini helmet collection is available as well. There are also Ryu statues and Monster Hunter apparel to fulfill every fan's dreams.
SOURCE: Capcom
VIA: Polygon