Canon's next gen EOS include 8K camera, 120 MP SLR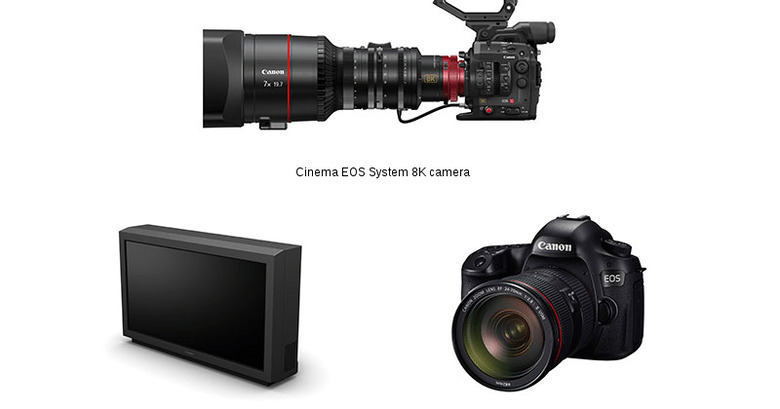 IFA 2015 might be over, but Canon certainly isn't done teasing the photography world with what could be. Late last month it revealed its plan to support the broadcast industry with the development of a 4K portable zoom lens. Now it is going the extra mile, pushing the boundaries of digital photography all the way to 8K. This includes the development of a Cinema EOS System 8K camera and an 8K reference display. Plus, it also has a 120 megapixel SLR camera in the works as well.
We're still on the verge of the 4K trend and yet Canon is already trying to beat its rivals to the 8K punch. Boasting a staggering 8,192 x 4,320 pixels, or 35.39 million effective pixels, its Cinema EOS System 8K camera currently in development will definitely turn heads when and if it comes out. The high megaipxel count will be made possible by a 35 mm equivalent CMOS sensor that also lets 8K video be recorded at a normal 60 fps rate. And if you think this will be a hulking camera, think again. Canon plans this to be totally portable, as portable as professional cameras can be, and even compatible with its interchangeable EF lenses.
To complement this new camera, Canon is also working on an ultra high resolution reference display that supports the same 8K resolution. Canon says that it will have a pixel density of around 300 or higher, which means that the screen size could be around 30 inches or less. By itself, the 8K display boasts of high levels of brightness and contrast (HDR). Of course, it's really appeal will come when paired with Canon's 8K camera.
But Canon is no fool and knows that 8K isn't that widely used yet. So in addition to actually helping capture 8K videos and photos, it is also working on technologies and workflows that downgrade 8K to the more standard 4K resolution, as well as 4K cropping processes.
Canon recently revealed a 250 megapixel sensor that will most likely be intended only for laboratories or surveillance. For consumers, it is developing something less extravagant but still incredible. A 120 megapixel single lens reflex camera. This will be part of its EOS platform and will also be compatible with a variety of interchangeable EF lenses for maximum effect. Canon claims that it will be able to capture the 3D texture of subjects.
It should be noted that none of these are actual finished products yet and Canon has not given a hint when to expect these to even hit the market.