Canon's latest PowerShot boasts in-video face recognition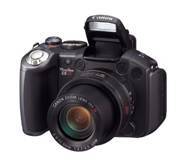 Call me a dumb little plumpty but when I'm taking photos I've never had too much trouble identifying people's faces.  By that I don't mean that I necessarily know who they are, but that I at least can differentiate between their face and, say, a pair of slippers.  So at first glance I wasn't entirely impressed with Canon's new PowerShot S5 IS, which can boast among its 8-megapixel CCD and 12x optical zoom the so-called "DiG!C III Imaging Processor" handling face detection.
But it turns out the camera might actually be cleverer than I am, because while I could quite easily stand up in court and say "yes, that's a face" without perjuring myself, the S5 IS goes a few steps better and can continuously adjust auto-focus, auto-exposure and flash-exposure according to the faces it identifies in shot.  In fact it can not only do that for individual frames, but during video recording as well – thumb the dedicated "movie record" button and it'll capture as much perfectly balanced footage as your memory card can handle.
Other treats include an AF continuous shooting function for rapid fire photos, supported not only in 'Sports' but all shooting modes, a Speedlite EX-series accessory shoe for added flashes, in-camera red-eye reduction to deal with all those faces you've been photographing and a "safety zoom" function which apparently can take super-telephoto shots without the usual image degradation associated with digital zooms.
The PowerShot S5 IS is available from June, with a MRSP of $499.99
Canon [via Digital ImageMaker]