Canon VIXIA mini camcorder optimized for self-shooting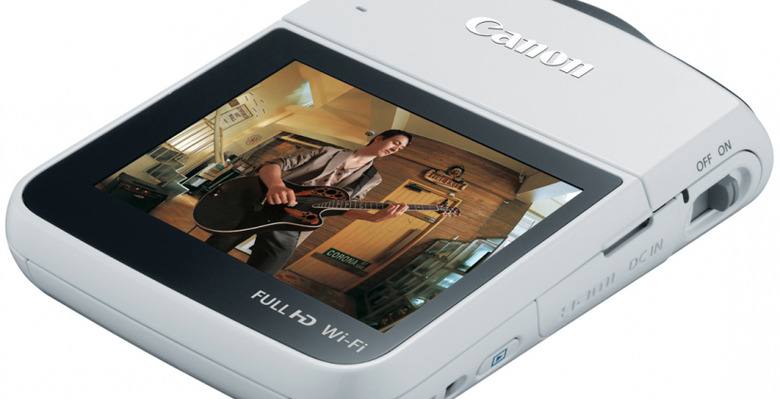 This week Canon has revealed the newest member of their VIXIA camcorder lineup, this time placing emphasis on the display and its ability to face forward as easily as it does backward. This 1080p-capable camcorder works with a 12-megapixel BSI CMOS sensor up front and a 2.7-inch 230K-dot-resolution display on top able to work anywhere from 90 degrees to 180 degrees away from that.
Under the body of this device you'll find a built-in stand that can kick the whole unit up to 60 degrees. This stand sits near a standard tripod mount, and around the edges you'll find a limited amount of buttons and inputs/outputs. On one side you'll be working with a dedicated power port for charging, HDMI out, physical record button, and on-off switch. On the other side you've got a switch for the kickstand, microUSB port, and a loop for a wrist strap (on both sides).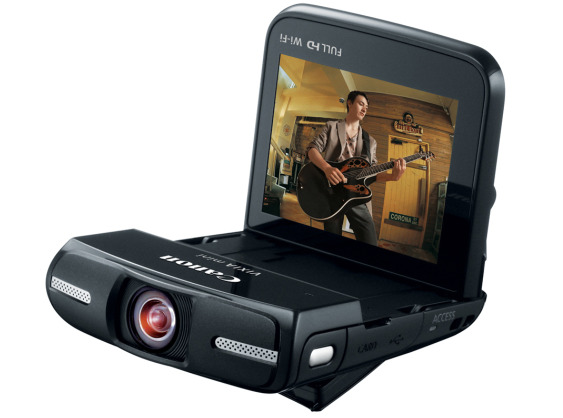 This device will be working with an automatic lens cover, flipping closed when the camera is not in use. Both iOS and Android machines will be able to connect to the Canon VIXIA mini with the already available Canon CameraAccess2 App.
Paired with this device's BSI CMOS sensor is the Canon DIGIC DV4 Image Processor, working to knock out high-quality video as well as still images. You'll be storing this all on a microSD card which you'll have to purchase separately.
This unit will be coming in a black (more grayish) iteration as well as a white edition, both of them appearing this September. It's worth noting that you'll be relying on this machine's built-in microphones to record audio. We'll see how it all works out in September, when the device is released for an estimated $299.99 USD. There'll be a $14.99 USD carrying case/wrist strap combo back coming then as well.