Canon VIXIA HF M-series and R-series HD flash memory camcorders revealed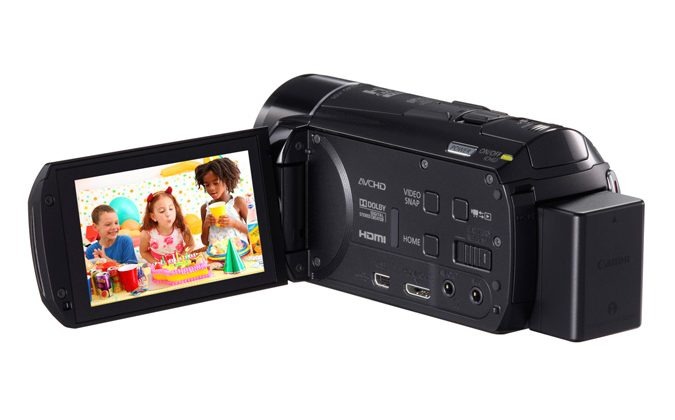 The folks at Canon are letting loose the hounds this week with a set of no less than SIX new camcorders for your HD flash memory recording pleasure. You've got three in the compact VIXIA HF M-series and three more in a more entry-level side with the R-series. All of these models are able to record directly to MP4 of AVCHD and each with full DLNA compatibility for wireless transfer after you're done capturing. Specifically the Canon VIXIA HF M52, VIXIA HF M50, VIXIA HF R32 and VIXIA HF R30 have the ability to upload directly to social media sites as well, transferring to YouTube and Facebook with great ease and to mobile devices such as, as they say, the iPhone or the iPad, done without effort on a free Movie Uploader app which you can download yourself.
This new line of models are being pumped up to a 20 percent improvement over the last set of Canon video cameras in the low-light department with Canon's own HD CMOS Pro Image Sensor. They've all got improvements over the past set in more than one category, each having the ability to export content directly to a hard-drive with no additional computer in-between, and the select models have the ability to work with Relay Recording which brings you seamless uninterrupted video recording, non stop, from one memory source to another and to another. Each has built-in memory features such as HD-to-SD Downconversion, this creating two files for you, one in the original HD and another moved down to a smaller format for easier transfer and upload.
VIXIA HF M-series
Each of the new line is 15 percent smaller than the 2011 models, is able to record in full HD 1920 x 1080, and has a Genuine Canon 10x HD video lens. Each of the three models has a flat touch 3.0-inch panel LCD screen, and both the VIXIA HF M52 and VIXIA HF M50 have a lovely 32GB and 8GB of internal flash memory. All three, the VIXIA HF M52, VIXIA HF M50 and VIXIA HF M500 will be available in March for prices of $749.99, $649.99 and $549.99, respectively.
VIXIA HF R-series
For the VIXIA HF R32, VIXIA HF R30 and VIXIA HF R300, you've got a set of budget models that are still able to record in Full HD 1920 x 1080 and are 21 percent smaller than their R-Series predecessors. Their "Genuine Canon HD Video Lens" allows for 51x Advanced Zoom, they've each 3.0-inch full-flat Touch Panel LCD screens, and all have a 3.28-megapixel Canon Full HD CMOS Image Sensor. Both the R32 and the R30 record to 32GB and 8GB of internal storage respectively, while the R300 is able to record directly to its SDXC-compatible slot for memory cards. All three of these models will be available in March, the R32 for $549.99, the R30 for $449.99, and the R300 for $349.99. Great deals to be had!
Also note that they look relatively similar, images of the M52 and M32 below: