Canon unveils two new PIXMA wireless All-in-One photo printers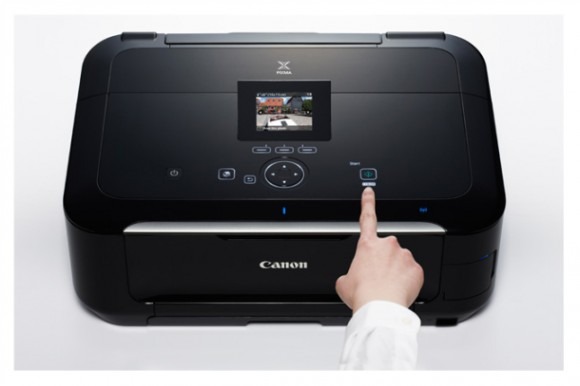 Canon is adding two new PIXMA wireless All-in-One (AIO) photo printers to their lineup with models MG8220 and MG6220. These printers are affordable and yet offer great design and convenient wireless connectivity for printing from anywhere as well as accessing images from the web without having to touch your computer. An added bonus is the updated software that now includes Easy-PhotoPrint EX and Full HD Movie Print.
The PIXMA MG8220 and MG6220 wireless AIO printers can be connected wirelessly to your desktop computer, laptop, tablet, or mobile phone. The Canon Easy-PhotoPrint mobile app will be needed for Android and iOS smartphones and tablets and has now been upgraded to allow PDFs to print directly. Users can also scan documents on the printer to be sent to a compatible wireless device.
An exclusive feature for these two printers is the ability to print select Google Docs and Gmail attachments from any accessible device. Registered users of Canon Image Gateway or Picasa Web Albums can also wirelessly print photos from those locations directly through the printer without the need for a computer.
The Easy-PhotoPrint EX has been upgraded with Fun-Filter Effects such as Firsh-Eye, Miniature, and Toy Camera. There's also an option to selectively soften or blur certain areas of an image to create a shallow depth-of-field effect. CDs, DVDs, and Blu-ray discs can also be directly printed on using these two printers for plenty of fun and creative personalization.
Full HD Movie Print allows for the capture of still images from videos recorded on compatible HD Canon EOS and PowerShot Digital Cameras, like the Powershot SX150 IS introduced earlier today. There's aslo a new layout feature that can print up to 72 individual stills onto one sheet.
The printers will go on sale sometime later this year with the MG6220 priced at $199 and the MG8229 priced at $299. The latter model adds a Film Adapter Unit for converting negatives to a digital format as well as a larger 3.5-inch LCD screen and double-sided printing.
[via Canon]