Canon PowerShot SX700 HS digital camera goes the distance with super-zoom feature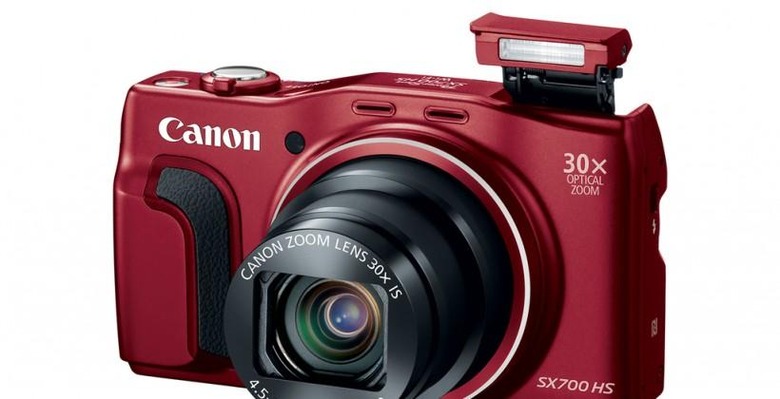 Canon has just unveiled its latest compact digital camera, the super-zoom PowerShot SX700 HS. Now photographers can capture both the intricate details of a nearby flower as well as the majesty or danger of distant fauna without being encumbered by sophisticated and heavy equipment.
As the branding implies, the SX700 HS' special feature is its all powerful lens, which boasts of a 30x optical zoom, or around the range of 25 mm to 750 mm. The HS in the name refers to the 16.1 megapixel High Sensitivity CMOS sensor that is teamed up with Canon's latest DIGIC 6 image processor. Of course, there is also Canon's Intelligent IS (image stabilization) technology present, helping photographers get the best shot, no matter the condition. The camera also has a dedicated movie button for recording videos in high-quality 1080p/60p.
This digital camera also has a variety of interesting modes and software features. Hybrid Auto mode lets users shoot up to 4 seconds of video whenever a still shot is taken. The images and videos are then sewn up together to create a memorable highlight reel, in 720p quality. And like many smartphone cameras that let you pimp up a shot even before taking it, the Canon SX700 HS as a Creative Shot mode that lets you choose from different filters such as Retro, Monochrome, Special, and Natural. The mode will then render five variations to choose from without touching the original shot.
And what digital camera today comes without some form of wireless connectivity. The PowerShot SX700 HS does include WiFi connectivity for sending those photos to a paired smartphone, tablet, or computer to be shared online. Pairing is made dead simple with the Mobile Device Connect Button. Simply press the button and tap an NFC-enabled Android device and you're good to go. The Canon Camera Window app, available for both iOS and Android, will also let users control the camera from a distance with ease.
The Canon PowerShot SX 700 HS super-zoom digital camera will come in stylish color choices of red or black. It will start its availability in March and will carry a price tag of $349.99.
SOURCE: Canon