Canon PowerShot N Sample Shots: Lifelogger Or Instagimmick?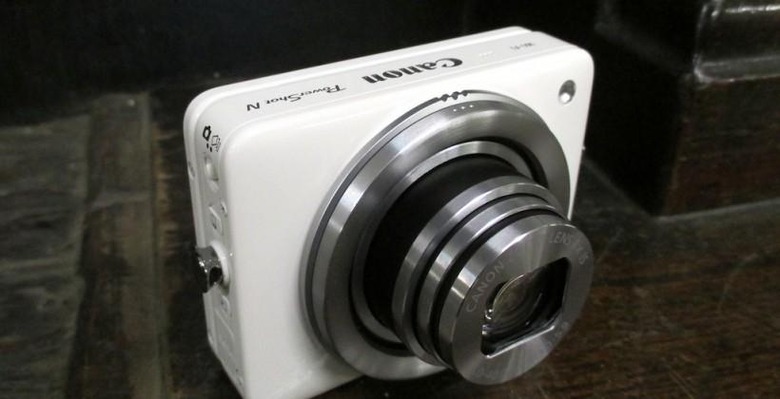 Canon's PowerShot N may not have the heft of a DSLR, but it's arguably more interesting: small enough to be wearable, with Instagram-style filters that can be automatically added, and an unusual control system that puts shutter and zoom around the lens itself. Having been unveiled at CES back in January, we finally got a chance to see what sort of images the PowerShot N could take when we caught up with Canon in – of all places – an abandoned London tube station.
You can tell the PowerShot N is an unusual little shooter from the start, with its 78.6 x 60.2 x 29.3 mm body almost square face-on, and a hinged rear 2.8-inch touchscreen that folds up 90-degrees. Turn the camera over, so the screen is facing down, and you can hold it over your head and still frame shots; the picture flips 180-degrees automatically. Unfortunately, the LCD doesn't fold up all the way, so you can't use it to frame images from the front; that seems a missed opportunity, given Canon's target audience of the photo-addicted.
While the touchscreen does most of the work, Canon hasn't skimped on manual controls where they make more sense. To get in close, you twist the ring around the 8x optical zoom lens; pressing down on the ring – from any direction – fires off a shot. It takes a little getting used to initially, though you soon get comfortable with the system. Touch-focus can be used, or face-detection. On the sides, meanwhile, there are some physical switches and buttons: a key to power the PowerShot N on, one for image/video playback, and one to quickly connect with WiFi (b/g/n)to push images to a phone, tablet, or elsewhere. A switch on the other side puts the camera into Creative Shot mode, which automatically applies a range of effects to the original image.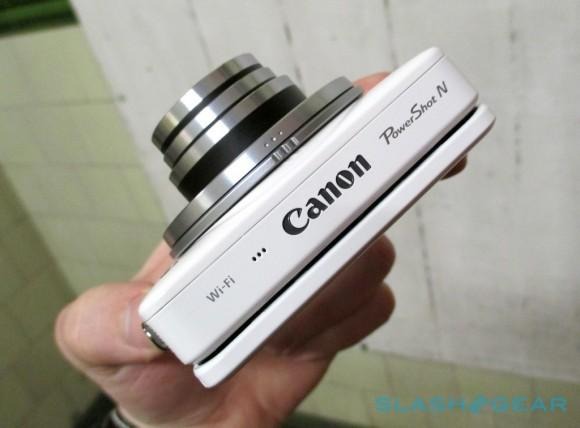 Image quality is solid for a compact camera, with the 12.1-megapixel CMOS sensor feeding shots through Canon's DIGIC 5 processor. The company claims macro images down to a centimeter are possible, though we had a few issues with focusing when dealing with close-up subjects; there's also lens-shift image stabilization, though you still need a pretty steady hand since the PowerShot N's relatively light 195g weight and compact body makes it easy to move during shooting. The fact that you need to push the lens-ring sideways to take a picture can exacerbate that.
The Creative Shot system is a mixed bag. Canon uses a combination of different effects as well as cropping to muster up five alternative versions of your original photo (which is also saved), a little like Instagram but without manual control over what gets applied. Sometimes the results are quite pleasing, but other times the cropping is too obituary and the filters too heavy-handed.
Where the PowerShot N could be particularly interesting is in its potential for life-logging. Canon recognizes some may want to wear it round their neck, and so will offer a choice of neckstraps which clip onto the Frankenstein's Monster-style silver lugs on either side of the camera. Unfortunately there's no option to set up timed shutter release, so you'll have to tap the button manually, but with a little work – perhaps a remote control smartphone app; Canon's CameraWindow can be used to copy images off the camera to your iPhone or Android device, as well as GPS tag them, but not actually control it – it could end up a mass-market alternative to something like Kickstarter-funded Memoto.
Not all is good, however. The battery is good for around 200 shots (280 in Eco Mode) only, and obviously less if you take advantage of the integrated WiFi. It's also not cheap: $299 or £269, when it begins shipping in the next few days. Still, if you're looking for a reason to carry both your smartphone and a standalone camera, the PowerShot N makes a great party shooter and drops neatly into a pocket or purse.