Canon PowerShot N Is A Facebook-Ready Point-And-Shoot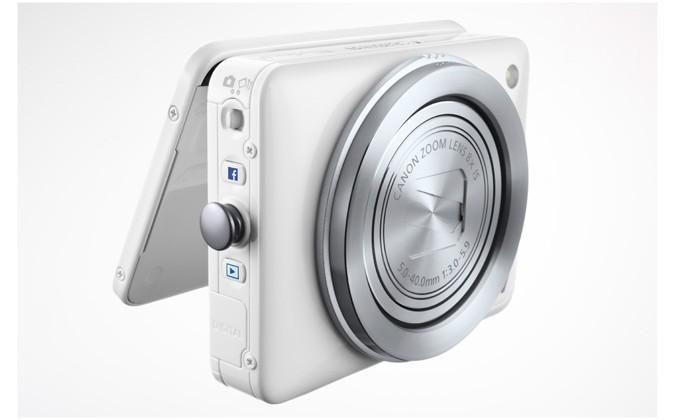 In addition to four other models Canon rolled out last evening, the company has expanded its line with the PowerShot N, a Facebook-ready point-and-shoot. The camera is a Canon Direct exclusive offering, and achieves its social network-ready status via the inclusion of a Facebook Connect Button, something that instantly shuttles images off to one's Facebook account.
The PowerShot N has a 12.1-megapixel High-Sensitivity CMOS sensor and a 28mm wide-angle lens, as well as 8x optical zoom. The camera is powered by a DIGIC 5 processor, and is capable of recording video in up to 1080p Full HD. The video feature in particular allows for the creation of composite video composed of multiple clips via Hybrid Auto mode, something that happens over the course of the day as photographs are taken.
The back of the camera features a large 2.8-inch capacitive touchscreen display capable of tilting up to 90-degrees. Unlike some point-and-shoots, the camera uses a microSD for storage rather than a regular SD card. There's a USB for wired data transfer and charging from a laptop or USB charger. There are 58 SmartAUTO scene modes.
Not surprisingly given the Facebook-ready functionality, the PowerShot N features integrated WiFi. As part of the Facebook-ready status, the PowerShot N uses a Face ID system that causes the camera to recognize faces the photographer knows and to focus on them. The camera is compatible with Canon's iMAGE GATEWAY for remote image uploading, and is compatible with a couple of the company's printers, including two PIXMA AiO printers.
Canon's Executive VP of Imaging Technologies & Communications Group Yuichi Ishizuka said: "At Canon, we are continually working to improve the way users share their photos and videos. The new PowerShot N Facebook ready digital camera, with the Facebook Connect Button, opens up a new dimension of photographic sharing and expression to help people showcase their personal style and creative flair with powerful innovative Canon technologies."
SOURCE: Canon