Canon PowerShot G5 X, EOS M10 silently appear online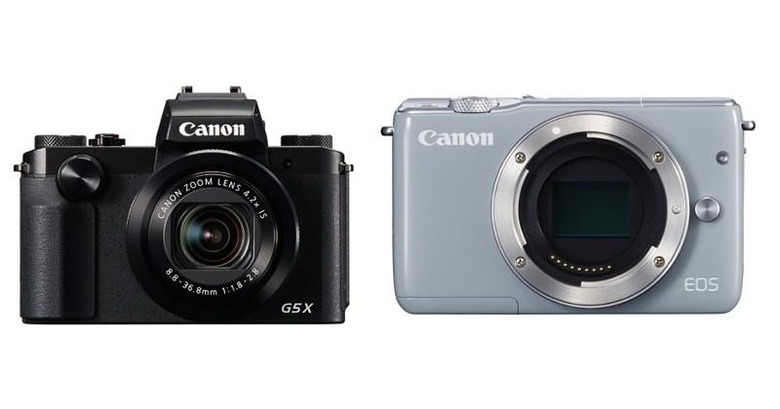 Just last week, we saw signs that Canon was preparing three new digital cameras to cater to professionals and hobbyists alike. Now Canon has launched two out of three of those cameras, though surprisingly with little in the way of fuss or fanfare. Not that they are not noteworthy in any manner. The new PowerShot G5 X, for example, boasts of the first in the family to bear a 2.36 million dot electronic viewfinder. The new EOS M10, on the other hand, boasts compatibility with both EF-M EOS M series digital lenses and EF and EF-S DSLR lenses.
Most digital cameras these days come with a multi-angle touch sensitive LCD screen. But there are times when using that screen is impractical if not impossible, like in very bright sunlight. With the PowerShot G5 X, that's no problem, with an EVF sporting a high resolution of 2.36 million dots, allowing users to gaze through the camera the old fashioned way. Continuing that theme, the camera is equipped with a front dial that can be operated with the index finger, perfect for when using the EVF.
The G5 X possesses a 1.0-inch 20.2 megapixel CMOS sensor which Canon claims is the physically largest sensor among other compacts. When paired with Canon's own DIGIC 6 image processor, the new PowerShot delivers high resolution images with great detail. The f/1.8 aperture makes sure that low light scenarios are also no problem for the G5 X.
The Canon PowerShot G5 X is now available from the Canon Online Store for a starting price of $799.
When word of a new EOS camera leaked out, no one was sure what the camera would be named. Now it's certain: the new EOS M10. This mirrorless camera also comes with Canon's new EF-M 15-45mm f/3.5-6.3 IS STM kit lens, the latest addition to the EF-M lenses for the EOS M camera family. Lightweight yet powerful, the EOS M10 packs an 18 megapixel CMOS sensor paired with the DIGIC 6 image processor to produce images with high detail and little noise. The APS-C type sensor embraces an ISO range of 100-12800 and is even expandable up to 25600. Low light shots are no problem either with a built-in pop up flash that can brighten any scene. The extremely portable compact has a 1.04 million pixel 3.0-inch touch screen that can pivot to a full 180 degrees to make short work of any angle. Yes, including selfies.
The Canon EOS M10 is now up on the Canon Store but price details are still unavailable. The camera itself will come in black, white, or gray choices while the EF-M 15-45mm IS STM comes in silver.
VIA: Photo Rumors, Canon Rumors