Canon PIXMA MG7120 And MG5520 AiO Printers Rolled Out With Wireless Connectivity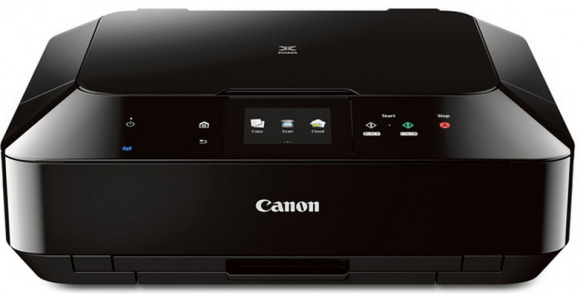 Canon has introduced two new wireless printers, the PIXMA MG7120 and the PIXMA MG5520. Both printers allow users to access documents in the cloud and print directly from various online services, among them being Photobucket, Picasa, and Dropbox. Both printers are compatible with the new PIXMA Printing Solutions app available for Android and iOS with Cloud Link credentials.
The PIXMA MG7120 AiO is an inkjet offering with a dual front tray and direct printing from disc. The printer utilizes a hybrid six-tank ink system, and has a maximum output of 9600 x 2400. For printing directly from the printer, there's a 3.5-inch touchscreen display and Canon's Intelligent Touch System. There's also Access Print Mode that allows for printing over a WiFi network without connecting the printer to a router.
Then there's the MG5520, which is a lower-end printer that features a 2.5-inch touch screen display, and instead utilizes a five-tank hybrid color system. Both printers use My Image Garden for automatic photo resizing, and feature Auto Power On/Off for reducing the amount of power the printers use. There's also automatic duplex printing, and support for Google Cloud Print.
The Canon PIXMA MG7120 AiO will be available later this year, having an estimated retail price of $199.99 USD and being available in black, white, red, and brown. The PIXMA MG5520, meanwhile, will only be available in black and white, and will have the estimated retail price of $149.99 USD.
Canon's Yuichi Ishizuka said: "As today's lifestyle is increasingly mobile-focused, consumers are eager for easy-to-use tools that not only help make printing easier and more convenient – but will also provide more opportunities to express creativity and connect with loved ones. With the introduction of innovative platforms like PIXMA Printing Solutions, Canon looks to provide users with convenient connectivity and access to online content quickly and easily."
SOURCE: Canon