Canon LE-5W portable projector set for summer with 3LED technology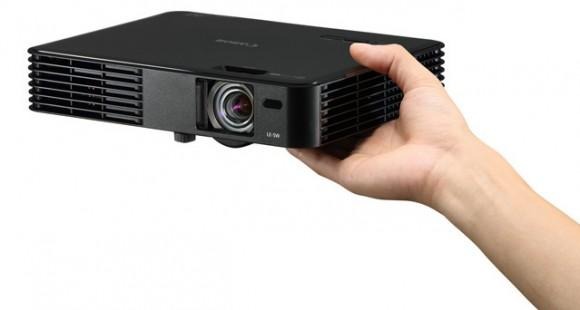 As projectors continue to be a big business in an industry ripe with mobile devices, Canon's newest hardware has appeared with a foot in both camps. This is the LE-5W Multimedia Projector, coming in any color just so long as its black or white, working with 3LED technology to ensure the photos users have taken with their Canon cameras are projected with as vibrant and color-correct a light as possible. Of course this device isn't a camera in and of itself: instead you'll be running content through an HDMI cord or USB thumb drive.
Made to be "ultra-portable", Canon has introduced the LE-5W projector as a 9.76" (w) x 7.60" (d) x 2.16" (h) unit weighing in at 3.5 lbs. This projector is able to work with multiple different input methods for the multi-device modern user. In addition to HDMI and USB thumb drive availability, this machine works with built-in 1.5GB storage and SD card slots as well.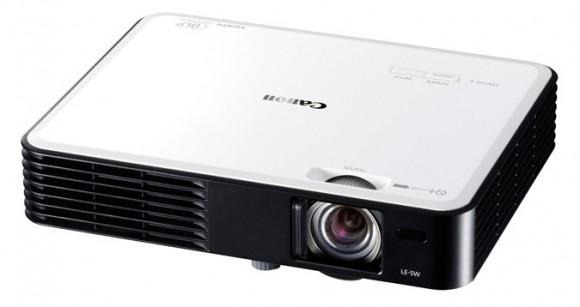 The Canon LE-5W works with 500 lumens of brightness and a throw ratio of 1.2:1. This means you'll be able to project a rather large picture in relatively small spaces. 3LED technology is employed to bring on what Canon describes as superior quality: "because the LED light source for each primary color (red, green, and blue) is used without splitting light through a color wheel, images and video with pure, highly vibrant colors can be projected."
Native resolution is WXGA (1280 x 800) while several different projection modes exist for the many different kinds of users that'll be making use of the machine:
• Presentation mode – this default mode matches the colors generally displayed by the screens of PCs and notebook computers.

• Standard mode – designed for optimal projection in rooms with minimal ambient light.

• Movie mode – delivers saturated colors, and is perfect for presentation in darkened rooms.

• sRGB mode – optimized for the colors as seen in a calibrated sRGB color space. This mode is best used for displaying graphics, AutoCAD diagrams, and other computer-calibrated presentations involving critical colors.

• User mode – enables customized settings of brightness, contrast, color, tint, temperature, and even sharpness.
While the machine does work with two built-in 2.5-watt stereo speakers, you'll also find basic audio in and out ports for external speaker hookups. Also included is a mini-USB for data transfer, standard video-in, and standard VGA in for full-sized PC connectivity.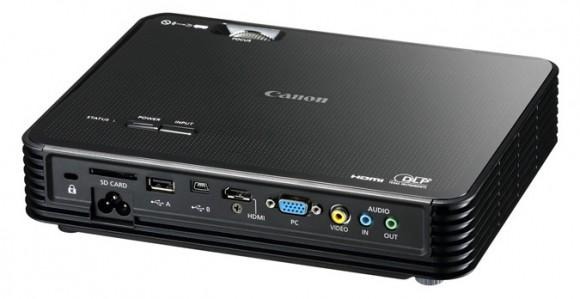 Tripod mount on the bottom, a four second startup time, and "scratch-resistant" surfaces all around round out the package. This machine will be available in stores in the Summer of 2013 for an estimated retail price of $799. Sound like a deal to you? Built-in media support includes H.264, WMV, MJPEG, MPEG1/2/4, and RMVB video; BMP and JPEG photos; MP3, WMA, AAC, OGG, and WAV music; and Adobe PDF 1.2-1.7 and Microsoft Office (PowerPoint, Excel, and Word) – so you know you wont be left out in the cold when you plug your USB stick in.