Canon launched $200 MIR program, 5D Mark II is on the list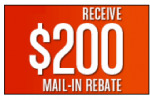 The Canon 5D Mark II launched six months ago but it didn't get shipped until late November, and today, it's still nowhere to be found. There's no question that the 21mp DSLR is incredibly high in demand, and logically, you wouldn't be able to find any discounts on this camera; but now you can.
Canon USA has launched a $200 MIR program for a list of products which includes the newest EOS 5D Mark II DSLR. It's slightly tricky, as you have to purchase an additional Speedlite 580 EX II and a high dollar (nearly $1000) lens to be eligible for the rebate. Nevertheless, those are must have items for a much-serious photography, they worth every penny and now you can take advantage of an additional saving.
Note that the rebate ends two days before the PMA 2009 unveils, Canon is definitely clearing out the warehouse, one can expect more announcements of new products are coming!!
Rebate Valid Dates:
02-11-2009 — 03-01-2009
Qualifying Products:
EOS-1Ds Mark III
EOS-1D Mark III
EOS 5D Mark II
EOS 50D
EOS 40D
EF 24-70mm f/2.8L USM
EF 24-105mm f/4L IS USM
EF 70-200mm f/2.8L IS USM
EF 85mm f/1.2L II USM
Speedlite 580EX II