Canon EOS Rebel T6 With Gray Design Quietly Launched In U.S.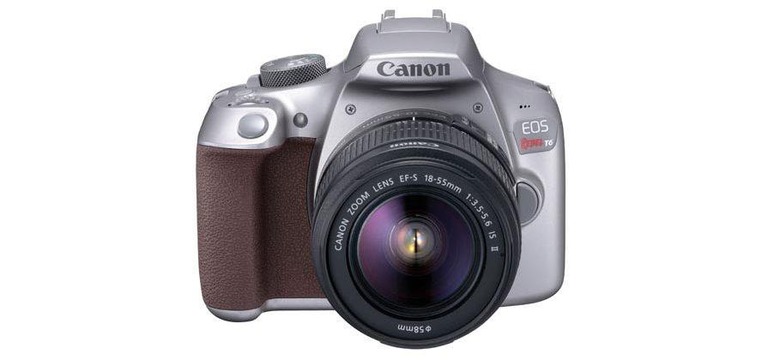 Canon has quietly launched a new EOS Rebel T6 camera with a gray body and a brown textured grip. Rumors of the camera first surfaced days ago followed by some leaked photos showing the model. Though Canon hasn't made any big formal announcements about it, the new option is officially available from the maker's website for $549.99 USD, marking a somewhat inexpensive option for those serious about getting into photography.
The Canon EOS Rebel T6 is a DSLR camera, and it includes an EF-S 18-55mm f/3.5-5.6 IS II lens in this case. The kit listed on Canon's USA online store also shows an EOS Digital camera strap, a connection cable, camera cap for when the lens isn't attached, and the camera battery. The camera, new design aside, is the same as every other Rebel T6.
The new design will no doubt appeal to some Canon fans, though it does have that retro digital camera look from days gone by, sporting something akin to an old Minolta Z10 style. Those unfamiliar with the model will find an 18-megapixel CMOS APS-C image sensor alongside the DIGIC 4+ image processor and an expanded ISO up to 12,800.
Other features include integrated NFC and WiFi connectivity for pairing and sharing content, modes like Scene Intelligence Auto for ease-of-use, and the overall promise of being both a simple but highly capable camera. Check out the timeline below for other Canon news!
SOURCE: The Digital Picture