Canon EOS-M mirrorless camera image leaks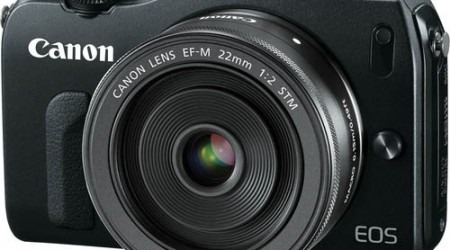 Mirrorless cameras are starting to become more and more popular with manufacturers, and it looks like Canon may be ready to enter the game. A leaked image has emerged of the EOS M, said to feature a EF-M 22mm f/2 STM pancake lens and a new EF-M mount. The image reportedly comes from an online store, and tips sent to Canon Watch suggest that the camera with feature an APS-C sized sensor.
There isn't much more info to go along with the picture, although Canon Watch believes the camera will be announced on Monday July 23rd. The APS-C sensor would make the included 22mm lens a 35mm equivalent, but there's no info on what to expect in terms of megapixel count, ISO, or even control.
Various camera manufacturers such as Sony, Samsung, and Panasonic have been pushing mirrorless camera systems for some time, claiming that the system can achieve near DSLR quality in a smaller form factor. More recently, Sony released its new entry-level mirrorless camera, the NEX-F3, with a 16.1-megapixel APS-C sensor and interchangeable lens system. That camera starts at around $600, while the NEX-5N and NEX-7 start at $700 and $1,200 respectively.