Canon EOS 70D sample movie demos Dual Pixel CMOS AF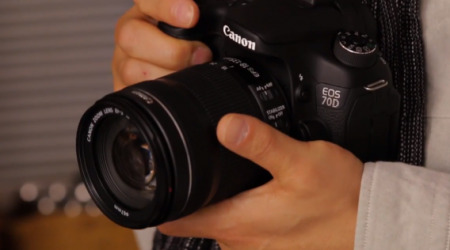 Canon is pretty proud of its new EOS 70D and particularly the DSLR's innovative Dual Pixel CMOS AF system, so it's no surprise there's a demo video showing the clever multi-part pixels at work. The 1080p footage, dubbed "Handmade" by Canon, shows not only exactly what is going on in the camera while it's recording, but also comes with a behind-the-scenes walkthrough of the making-of the whole thing. If you're considering splashing out on the EOS 70D, it's a must-see.
Traditional autofocus systems on DSLRs split the incoming light into two paths, one being used to figure out how crisp the image is and what adjustments are needed to the lenses in order to get the subject sharply in focus. Canon, though, wanted to boost the speed and accuracy of that – as well as allow for continuous autofocusing during video recording – and so came up with a new system.
Dual Pixel CMOS AF, as we explained the other day, involves changes at the level of the CMOS sensor itself. Each individual pixel of the 20.2-megapixel APS-C CMOS is in fact made up of two photodiodes, which can be used individually to make the necessary calculations in phase-detection focus mode.
Canon EOS 70D "Handmade" Dual Pixel CMOS AF demo:
However, for shooting, the input from both photodiodes is combined. Canon says the new system is not only faster and more accurate than before, it also considerably maximizes the usefulness of the 3-inch LCD display on the back of the EOS 70D.
In fact, while purists might scoff at anybody using anything other than the regular viewfinder, Canon argues that the LCD has advantages of its own. Now that the delay has been cut down, it should be more useful in low-light scenes since it will likely be clearer than what's coming through the optical viewfinder.
If the demonstrations convince you, you may need to save up some. The Canon EOS 70D will be $1,199 body-only when it hits store shelves in September.
Canon EOS 70D "Handmade" Dual Pixel CMOS AF background:
VIA PhotographyBLOG