Canon EOS 70D Dual Pixel CMOS AF "revolutionary" system detailed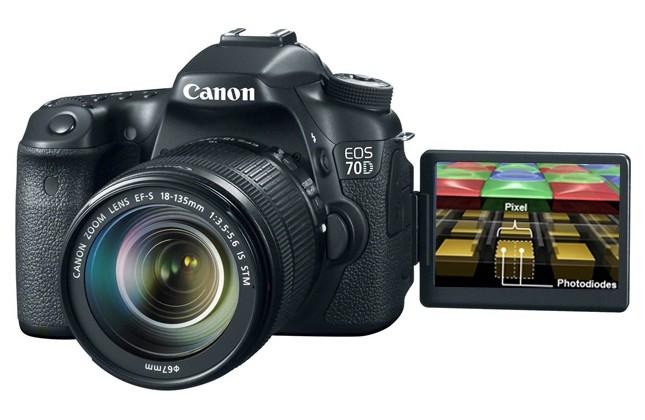 Canon's "game changing" autofocus system on the new EOS 70D has been detailed, Dual Pixel CMOS AF, promising the smoothness of a dedicated camcorder with the image quality and lens flexibility of a DSLR. Billed as "revolutionary" by the company, the Dual Pixel system marks Canon's concession to the increasing number of photographers wanting to frame using the LCD rather than the traditional viewfinder, with a new CMOS that can simultaneously capture images and perform phase-detection AF.
Canon's system takes the same core approach as existing phase-detection auto focus. In both, the light entering the camera is split, and the difference in the focus point position between the two images is measured and analyzed to calculate the adjustments needed for focus.
Traditionally, a separate phase-detection AF sensor is used to perform those measurements; in Canon's new system, however, the image sensor itself does the measurements, at the same time as capturing image data. That's because Canon uses two photodiodes for each pixel: used side-by-side during focusing they work as the phase-difference sensor, while during image capture they're combined to act as a single pixel in the final frame.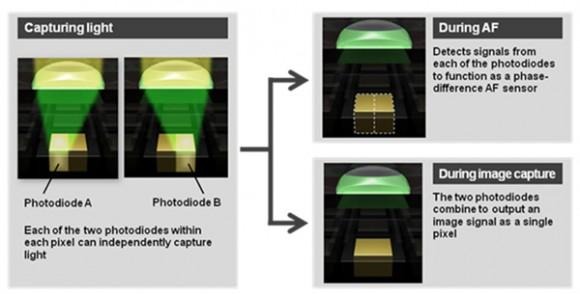 Overall, that means continuous autofocus throughout video recording, with support for tap-to-focus on the EOS 70D's 3-inch touchscreen. Canon also offers face- and object-tracking, and argues that – while purists might choke at the thought of framing with anything other than the viewfinder – by switching to the Live View LCD even low-light situations are clearly visible.
Canon Dual Pixel CMOS AF overview:
The result is a camera that's significantly swifter to autofocus than its predecessors, with Canon claiming the EOS 70D can lock 30-percent faster than the Hybrid CMOS AF II system in the EOS Rebel SL1. In fact, for most purposes it's "nearly instantaneous" Canon says.
The first camera to support the Dual Pixel CMOS AF will be the EOS 70D, which is expected to ship from September. However, we're fully expecting Canon to roll the system out to other models in due course.
Canon EOS 70D overview: