Canon EOS 60Da Aims For The Stars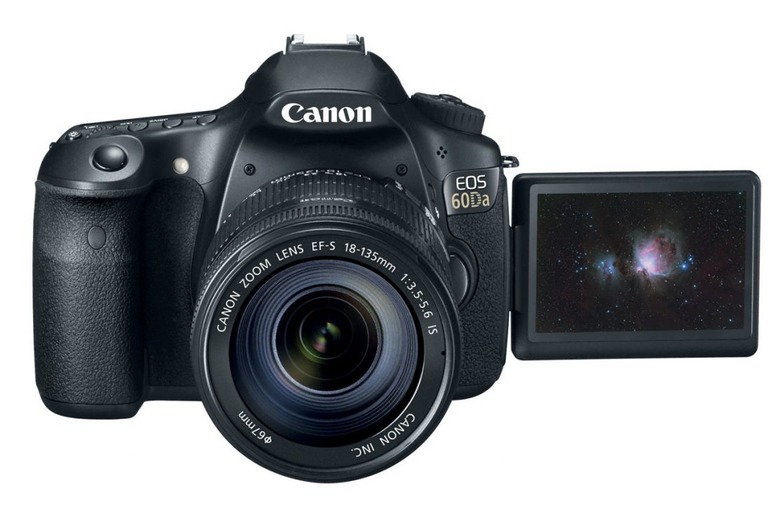 Hello Spaceboy: Canon has your camera. The Canon EOS 60Da gets starry specific, a camera specifically tweaked to suit astronomical photography: the company uses a modified infrared filter and a low-noise sensor "with heightened hydrogen-alpha sensitivity" which, it's said, makes for "magnificent photographs of "red hydrogen emission" nebulae and other cosmic phenomena." Replacing the aging 8.2-megapixel EOS 20Da, the EOS 60Da has an 18-megapixel APS-C CMOS sensor and, with the right adapter, can be mounted to telescopes.
Canon's exact changes may not make much sense if you're not familiar with night sky photography. According to the company, "the improved infrared-blocking filter is a modification suited specifically toward astronomy enthusiasts to achieve a hydrogen-alpha light sensitivity that is approximately three times higher than that of a normal Canon DSLR camera." The end result is "a 20-percent higher transmittance of Hydrogen Alpha line, or H α wavelength, allowing astronomers to capture crisp, clear images of reddish, diffuse nebulae."

On the back is a 3-inch, 1,040,000 dot LCD display with a twisting, rotating mount; Canon also bundles its AVC-DC400ST Stereo AV Video Cable, pushing a Live View image to a nearby TV for communal gazing. That Live View mode has been modified to suit the EOS 60Da, too, with a Silent Shooting feature for cutting out shutter-induced vibration.
A new noise reduction system promises to make ISO speeds up to 6400 (expandable to 12800) more usable, and there's nine-point autofocus, full manual controls, and RAW, JPEG, and RAW+JPEG save options. In the box is the RA-E3 Remote Controller Adapter, for using external timers with longer intervals in addition to consecutive timed exposures for eventual combination. Finally, an AC adapter kit for powering the EOS 60Da from the mains is bundled too.
Canon isn't expecting the EOS 60Da to show up with every retailer, and in fact the specialized camera will be only on sale at certain locations. It should hit those shelves this month, priced at $1,499.