Canon 5D Mark III/X leaked details rundown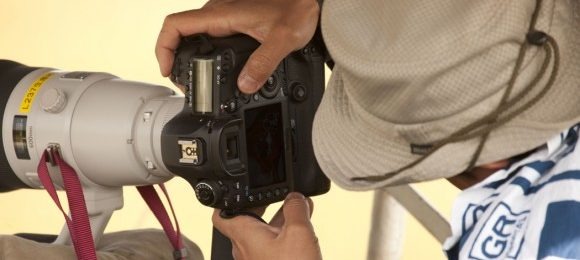 It's time to get serious about the next big camera release from Canon, the 5D Mark III, also known with an X in the name to assure you its hardcore. This camera was spotted in the plains a few weeks ago sporting a gigantic lens and no less than a pre-build set of hardware surrounding it. The camera we're looking at here is set to have official information released on February 28th, 2012 – if the tips are true, that is.
This camera is ultra powerful at 22 megapixels, 61pt AF, and having the ability to capture 6.9fps. If these specs remain true, we could be looking at a replacement for the 7D. Shipping for this unit will likely be taking place in late March or early April. This camera does not trump the Nikon 36mp D800, so it seemed important for the man Masaya Maeda of Canon to destroy rumors that Canon was falling beyond recently:
"Regarding how Canon responds to the competition from Nikon's D800 and the concern of the successor of 5D Mark II, Maeda indicates that although he cannot leak information about un-announced product, the way Canon develops new product is to satisfy the needs of professional photographers. For instance, the introduction of EOS-1D X is to satisfy professional photographers to photoshoot sports events like the Olympics, in terms of their requirement of high FPS and high image quality under high ISO settings. If Canon thinks the market wants the high resolution models such as the 30+ MP of Nikon's D800, they can easily develop such products..." – Maeda
This quote comes from Canon Rumors where they've also got a tip that the 5D Mark II could remain "current" enough to gain additional hardware and attention from Canon even when the III is out and about. This would be great news for owners of the 5D Mark II and those who still want to pick one up now that the price will inevitably go down. Seeya then!
[via Canon Rumors]