Can the 2016 smart fortwo convince America that small is super?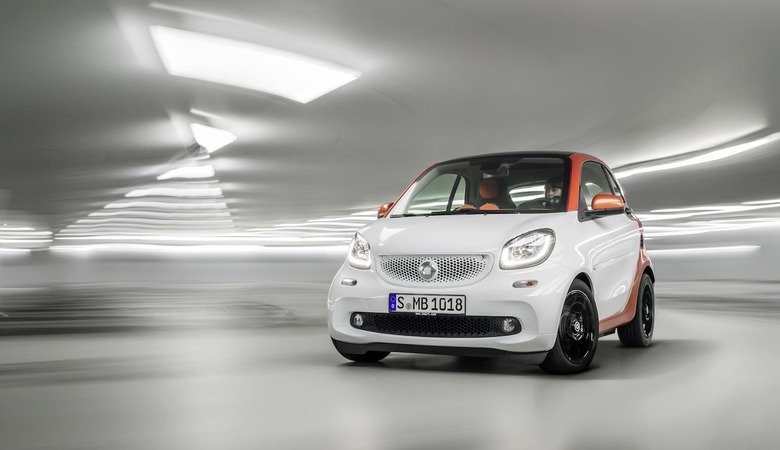 Smart's distinctive – and divisive – new 2016 smart car is finally making its US debut, as the urban super-compact tries to convince an American audience to take its cutesy looks seriously. Launched in Europe last year, but not expected to show up on US forecourts until September 2015, the new smart fortwo will trundle initially onto the stage at the New York International Auto Show next week, complete with a mere 89 HP, all-new interior, and a choice of automatic or manual transmissions. Despite the updates, many of which see smart owner Mercedes-Benz attempt to position the 8.8 foot long car as a more premium option, the convenience factor is said to be even greater.
That means things like a super-small turning circle, with the 2016 fortwo able to spin in just 22.8 feet. Economy hasn't been announced, but performance from the three-cylinder engine is up, with the 0-60 mph time cut from 12.8 seconds in the outgoing fortwo to around 10.4 seconds in the new model.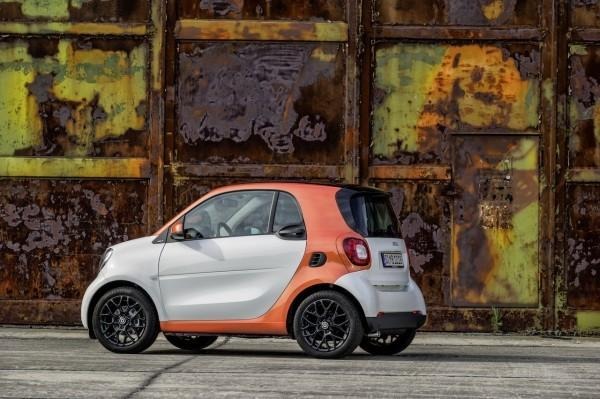 Impressively – and somewhat unexpectedly – smart will offer both the "twinamic" automatic dual-clutch auto transmission and the five-speed manual in the US; we'd expected only the auto gearbox to be released on American shores. Whichever is picked, there's a new turbocharger for the 898 cc engine which puts out 100 lb-ft of torque at 2,500 rpm.
That might not sound like much, but then again the 2016 fortwo doesn't weigh much, either. Curb weight for the European equivalent is 1940 pounds.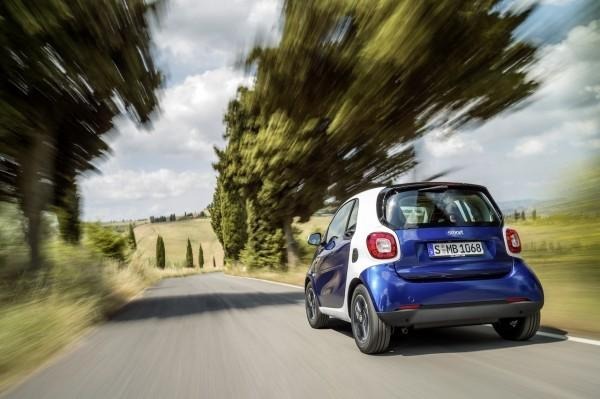 You still get plenty of safety kit, however. The so-called "tridon" body shell, which is effectively a roll-cage for the fortwo, has been updated with plenty of extra ultra-high strength steel, and there are bigger crumple zones than before. Mercedes-Benz then pitted the city car against the far larger S-Class and C-Class, to make sure the smart didn't fare badly in a collision.
Eight airbags are fitted as standard, while other safety tech includes crosswind assist as standard (and forward collision warnings as an option), together with electronic stability control.
The challenge smart undoubtedly faces is convincing American drivers that a small car of this sort is both desirable and safe. Part of that will hinge on how the fortwo does in NHTSA safety ratings, but it'll also be contingent on the in-cabin kit.
So, the fortwo has been outfitted with things like a panoramic roof, optional leather sats, a 240W JBL sound system that squeezes eight speakers into the compact cabin, optional heated seats, an optional 7-inch touchscreen tablet, and even rear parking sensors, though you could probably just peer over your shoulder and save the cash.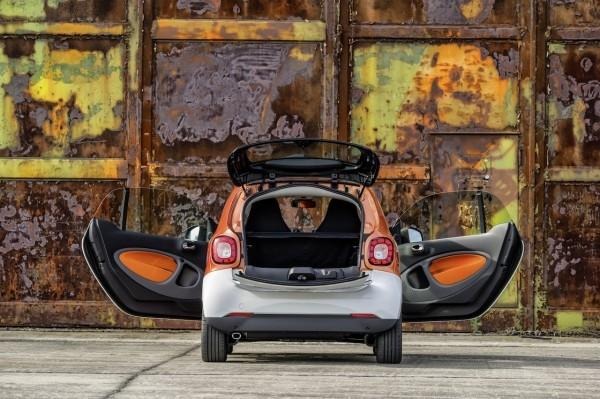 Pricing is yet to be confirmed, with smart giving its would-be drivers time to get used to the bolder exterior design and generally chunkier aesthetic. We'll see more at the NYAIS 2015 next week; SlashGear will be there, so keep an eye on our Cars Hub for all the details.