Cambridge Audio Minx Air 100 Review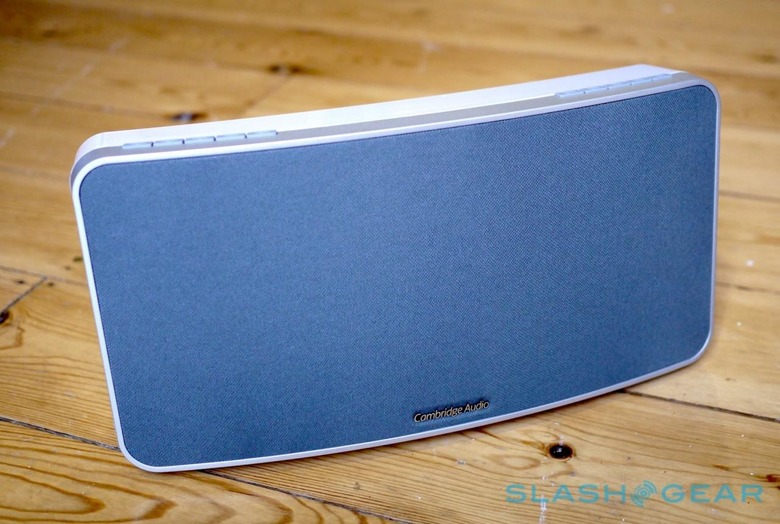 Does the world need another AirPlay speaker? Cambridge Audio thinks so, and the new Minx series of streaming media players is the result: the Minx Air 100, on the SlashGear test bench today, and its doubly-powerful Air 200 sibling. It's not hard to see where Cambridge Audio got their style inspiration from for the Air 100, either: it looks a whole lot like a Sonos PLAY:3, though the functionality is different. Rather than focus on multi-room use, the Air 100 instead positions itself as an individual hub for all gadgets musical, whether that's AirPlay, Bluetooth, internet radio, or something more old-school. Read on for our full review.
Hardware
Happily, while the Air 100 looks like a Sonos, it also has similarly high build quality. The speaker grill covers the entire bowed fascia, though the Air 100 does offer more on-device controls and connections than its Sonos counterpart. Up top there's power and volume keys, along with buttons to switch between Bluetooth and aux-in sources, as well as five preset keys for internet radio stations. If you've ever been frustrated by having to reach for your phone or tablet to manage a Sonos stream, the direct controls on the Air 100 could save you some time.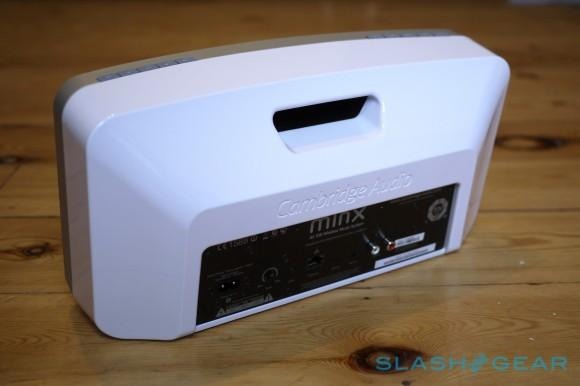 On the back, there's an AC power input, bass control knob to adjust the lower frequencies, a WPS button for easier pairing with compatible routers, an ethernet port, "service port" that Cambridge Audio warns shouldn't be used by owners, a 3.5mm aux-in port, and L/R RCA inputs for a CD player or other analog source. The Air 100 comes with a compact remote which can be used to tweak volume and bass, as well as flip between sources and up to ten internet radio presets.
Inside there's a 100W amplifier and two 4-inch balanced mode radiator drivers, along with a WiFi b/g radio and Bluetooth. The Air 100 also supports Apple's AirPlay, for direct streaming from iPads, iPods, and Macs/PCs running iTunes, while the Bluetooth aptX, SBC, and AAC codecs are supported for higher-quality streaming from other phones and tablets.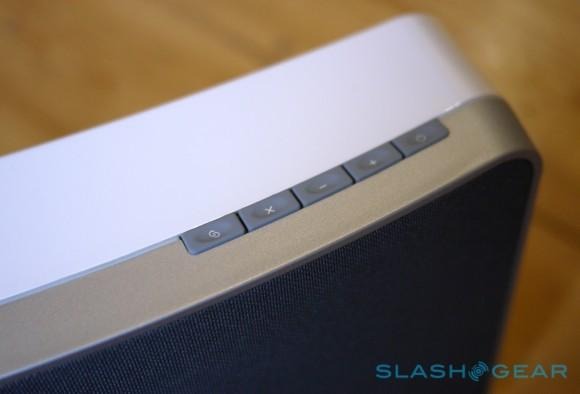 What you don't get is any sort of docking station. There's no way to physically connect your iPhone or iPad to the Air 100 to recharge it, though that does mean that there's no messing with different 30-pin/Lightning dock connector plates and cradle adapters.
Usability
The Sonos-esque looks are deceiving. There's no grouped playback support from the Air 100; unlike, say, a collection of PLAY:3 units, you can't hook them all together and syncronize playback of a single track. Instead, each Air 100 is controlled in turn, either from the local buttons, the bundled remote (which is on the flimsy side, but functional), or the free iPad, iPhone, and Android apps.
Setup is straightforward, initially requiring you to connect your computer to a WiFi network hosted by the Air 100 to access its browser-based settings page and punch in your usual wireless network credentials. Then, you can access it via its IP address from any browser on the network; alternatively, you can go for a wired ethernet connection direct to your router, or hit the WPS button if your router supports it.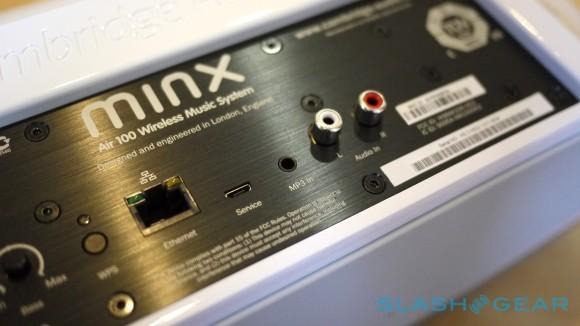 Cambridge Audio stores ten default internet radio presets to get you going, but changing them is a matter of opening up the MinxAir app on your phone or tablet and browsing through the list. Stations are sorted by location or genre, or you can search, and there's a list of recently played streams along with shortcuts to your phone's music app and Shazam, the app that identifies what's playing by its musical fingerprint. If you've a Spotify account then you can stream tracks from that, too.
It doesn't have to be internet music sources, however. Hit the Bluetooth button and the Air 100 automatically goes into pairing model; then it's just a case of choosing the speaker from the list on your mobile device, and then starting playback. AirPlay works in a similar way, with the Minx speaker showing up as an AirPlay device from the menu in iOS or iTunes. We were quickly able to funnel music over to it from an iMac and then from an iPad mini.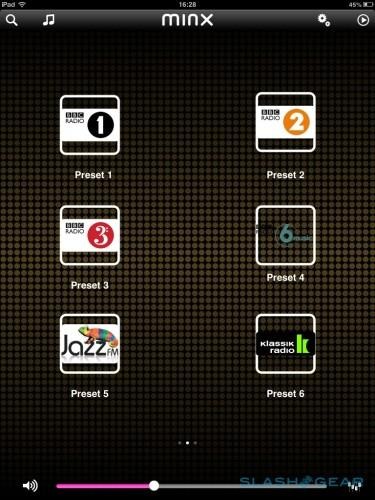 Finally, there's the analog options. If your media player doesn't have Bluetooth, then you can hook it up to the 3.5mm input with a regular cable; the RCA inputs are ideal for a set-top box or CD player. Pressing the analog button switches over to those sources, though the Air 100 will automatically flick over to AirPlay or Bluetooth if those connections become active.
Performance
There's a surprising amount of sound that comes out of the Air 100, given its 13.9 x 7.2 x 4.6 inch dimensions. Cambridge Audio calls its speaker technology "Balanced Mode Radiator" (BMR) but the important thing is that there's an impressively broad soundstage during playback, though as with all single-box options the Air 100 lacks in stereo separation.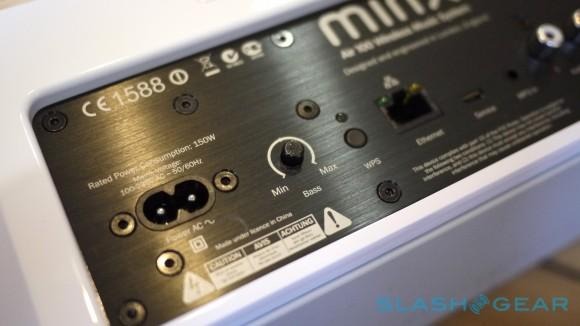 You don't get an active subwoofer (and there's no support for plugging in an external sub), with the carry-handle doubling as the passive bass output. Still, with some judicious tweaking of the bass knob we were able to coax low level sounds out that matched what the mids and trebles were doing, and comfortably fill a room with music without encountering distortion. Up next to a PLAY:3 we noticed a lack of the top-end sparkle that the Sonos achieves with its dedicated tweeter, but the Air 100 managed a healthy mid section with some nice stabs of bass along the way.
Wrap-up
At £329, the Minx Air 100 finds itself more expensive than the £259 PLAY:3 but competitive against other AirPlay speakers. In the case of the Sonos, you trade the potential for multi-room support and the slickness of Sonos' remote experience for Bluetooth and native AirPlay support (though it's worth noting that Sonos enabled direct playback of local iOS music with a late-2012 controller app update). The PLAY:3 also lacks the analog inputs; you need to step up to the £349 PLAY:5 if you want that.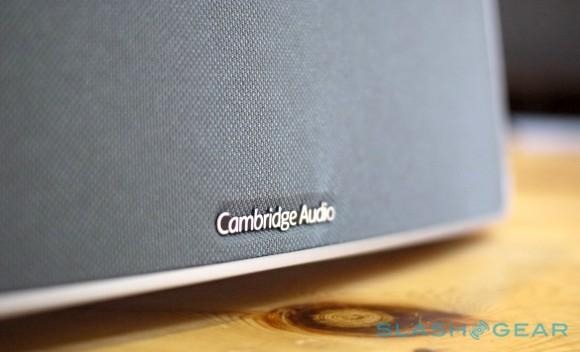 Against something like the Libratone Zipp (£329), however, the Air 100 looks very solid indeed. It lacks the battery support of the Zipp, but makes up for it by throwing in Bluetooth. That makes the Cambridge Audio speaker a lot more interesting for cross-platform users, who aren't entirely committed to Apple. The Air 100 js also more powerful and delivers a more fulsome sound than the smaller Zipp.
Yes, we'd still head straight to Sonos if we had any ambitions to outfit multiple areas of a house with music, but for bringing audio to a single location – whether kitchen, bedroom, or office – the Minx speaker covers all the bases in a convenient way. The physical controls make it user-friendly for those uninterested in digging into a smartphone app, while the iOS and Android app compatibility, as well as the presence of Bluetooth, suits it to a platform-agnostic household. It's that versatility which gives the Air 100 the edge over other AirPlay systems.