Camangi WebStation seemingly imminent; new Android app market launched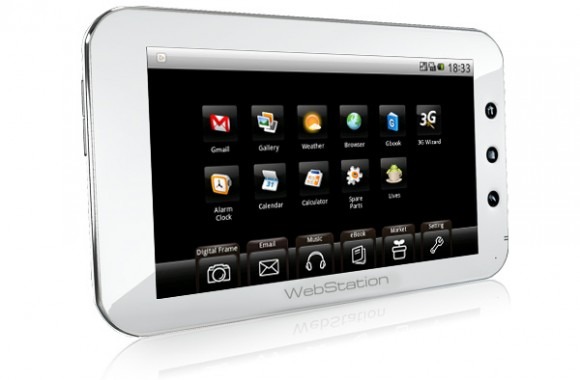 Blimey, could Camangi actually be serious about selling their WebStation Android tablet?  We've scoffed a little at the hitherto-unknown company's intentions of having the 7-inch WiFi tablet on the market by December 2009, but a new site and a freshly launched Camangi Market (for apps friendly to the slate's hardware and screen resolution) seem to suggest that the joke's on us.  For once, we're happy to be in the wrong as if the pricing is right, the WebStation could prove highly appealing.
Technical specs have also been finalized.  The WebStation is based on a 624MHz Marvell PXA303 CPU with 128MB of RAM and 256MB of flash NAND storage.  There's also WiFi b/g, GPS, and support for a 3G USB modem via the regular USB 2.0 port; other ports include a mini-B USB connector, 3.5mm headphones jack and a microSD card slot (with an 8GB card in the box).  It has a 7-inch 16m color LCD resistive touchscreen running at 800 x 480, and a 4,000mAh battery good for up to 4 days standby (with GPS and WiFi shut off) or 4-5hrs active use.
OS is Android 1.5 with the usual apps, which means the WebStation works happily as an email terminal, web browser and mediaplayer.  Camangi also supply a stand for propping it up on a desk or end-table.  The whole thing measures 4.72 x 7.87 x 0.57 inches and weighs 13.75oz, and while it'll only be available in white at first, the company plan black and pink models soon after.  The dual cameras originally vaunted seem conspicuous by their absence, however.
All of this sounds great, but it hinges on pricing.  If Camangi can bring the WebStation in at under $300 then they'll have a real winner on their hands; under $500 and the whole thing will be a lot tougher to sell.
[via BestTabletReview]