Camangi WebStation Review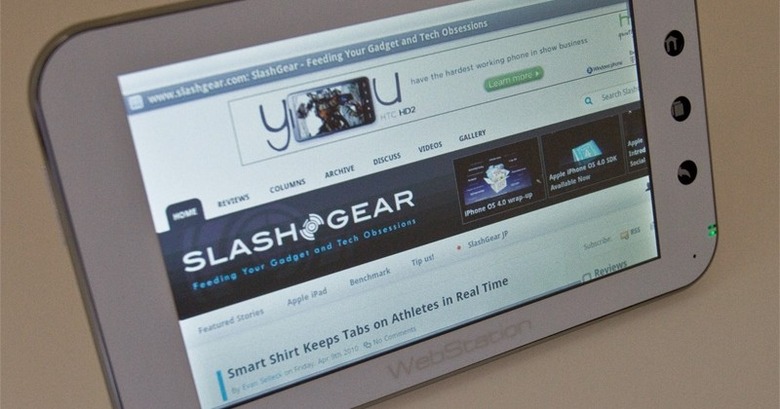 The Camangi WebStation was announced back when Android-based tablets were still a novelty; since then we've seen the iPad launch, various other tablets attempt to grab our attention, and read a few pretty dire reviews of the company's first-gen offering. On the SlashGear test bench today, then, is the "new upgraded version"of the WebStation; at $275 it's around half the price of Apple's tablet, but is it double the value? Check out the full SlashGear review after the cut.
In terms of hardware, the WebStation is a 7.87 x 4.72 x 0.57 inch slate weighing 13.75 oz and dominated by a 7-inch WVGA 800 x 480 resistive touchscreen. Three buttons – Home, Menu and Back – run along the right side of the display bezel, while there are volume controls on the left edge and a power button on the top. Our review unit is white, though Camangi also offer black and pink versions. Connectivity includes a full-sized USB 2.0 port, mini USB, 3.5mm headphone jack and WiFi b/g, together with a microSD slot.
As well as the WebStation itself, Camangi include a power supply, pouch case, wired stereo headset with microphone and a cleaning cloth, together with an unusual desk-stand that uses a suction cup to stick to the back of the tablet. A pull-out stylus lives on the bottom edge.
While the latest Android smartphones are using 1GHz Snapdragon processors and run OS v2.1, despite the recent update the WebStation gets Android 1.5 and a 624MHz Marvell PXA303 processor. That's paired with 128MB of RAM and a 256MB ROM. On top of the standard Android UI, Camangi have added their own homescreen and a suite of apps, removing the typical Google software in the process. There's no Gmail app – the icon merely loads the browser and takes you to the Gmail homepage – and, more significantly, there's no Android Market access. Instead you get the Camangi Market.
In this latest build, Camangi's preloaded titles include ebook reader app Aldiko (instead of FBReader, as in the first version) together with the Fring VoIP client, a weather app, picture, music and video players, a browser, calculator, calendar and alarm clock. You also get a search bar preconfigured for Google, which sits on the homescreen. As for the Camangi Market, there's a far smaller selection than you'd find on a regular Android device. There are some gems – Twidroid, is there, and you can find an AIM client and Exchange email support – but there's no sign of a Google Maps client and you're pretty much at the mercy of developers deciding to code specifically-tailored apps for the WebStation itself. Even downloading what titles are available is mildly annoying: the file is saved as an APK on the tablet, and you then have to actively open it yourself to begin installation.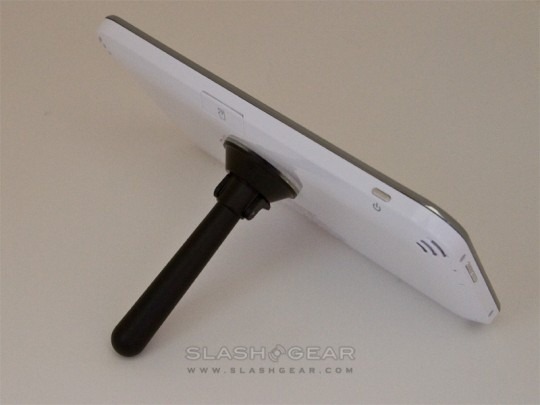 Boot-up is quick at around 30 seconds, and since there's no 3G radio inside you don't have to wait to get a network signal. We did find that, on occasion, when resuming from standby the WebStation would fail to re-establish a connection with our WiFi router. Camangi say you can plug in a 3G modem into the USB 2.0 port on the side, for connectivity without being near a WiFi signal, but they don't promise it will work with all such modems and we had no luck with the unit we tried ourselves. You can also use the USB port to plug in a QWERTY keyboard, turning the WebStation into a netbook of sorts.
Unfortunately, performance overall is disappointing. Browsing stutters with heavier webpages, there's no Flash playback, and general navigation is relatively slow. More concerning is video playback: while the 7-inch display should make for a decent PMP experience, the WebStation's CPU seemed to struggle with anything but the most low-quality MPEG4 files. Even Camangi's own promo clip was jumpy and glitchy, and there's also no YouTube app. Audio playback was more successful, and Fring works well for VoIP calls. Interestingly, the WebStation was at its best with ebooks, the accelerometer automatically flipping screen orientation from landscape to portrait and the display being a nice size for reading.
Camangi reckon battery life for the WebStation will be around four days with wireless turned off, or 4-5hrs with it switched on. In reality, browsing over WiFi fell pretty much right in the middle of that estimate. Less impressive are the occasional lock-ups we experienced, where the tablet would refuse to resume from standby. The only way to get up and running again was to jab the tip of the stylus into the reset hole, since the battery is non-removable.
Overall, it's hard to recommend the Camangi WebStation to a broad audience. Browsing is reasonable – absence of Flash aside – as is ebook reading, but we'd want our tablet to work as a PMP too, and the WebStation's dire video performance counts it out. Meanwhile the shortage of available apps pretty much undermines the whole point of using the Android OS. If you're primarily looking for an ereader, and maybe want to browse online a little in-between books, then the WebStation might appeal; you'll have to be content with non-DRM ePUB titles, of course, since that's all Aldiko natively supports. Some niche appeal, then, but this isn't the Android tablet to change the market as we know it.