Camangi WebStation Android UMPC on sale "no later than early December"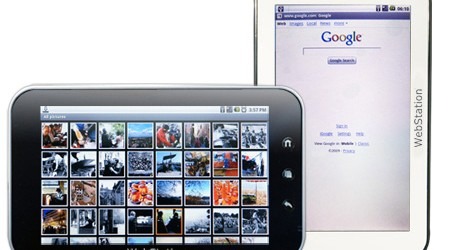 We made no attempt to disguise our confusion about what looked like a poorly orchestrated teaser campaign for the Camangi WebStation Android slate earlier this year, but neither did we deny that there's still a space in our heart (and on our shelves) for the first affordable example of just such a device.  Camangi's site – now fully functional and accepting pre-launch reservations – is claiming that the 7-inch WebStation will drop "no later than early December this year".
Pricing isn't clear from the site, but Pocketables are saying it'll come in at around $399.  It'll depend on how much you fancy a touchscreen internet tablet as to whether that sounds affordable or otherwise; your money gets you a Marvell 624MHz PXA303 processor, with onboard WiFi b/g, Bluetooth 2.0 and GPS.  A USB Host port should play nicely with an external keyboard and mouse, or alternatively you could slap in a 3G dongle.
There are also front and rear-facing cameras (0.3- and 2-megapixel respectively) and the battery will apparently last for between four and five hours of normal use.  We'll believe it all when the first units begin shipping, but there's a hopeful little spark deep inside of us that hopes Camangi can manage it.
[via Pocketables]