Camangi WebStation 7-inch Android tablet sows own teaser campaign [Video]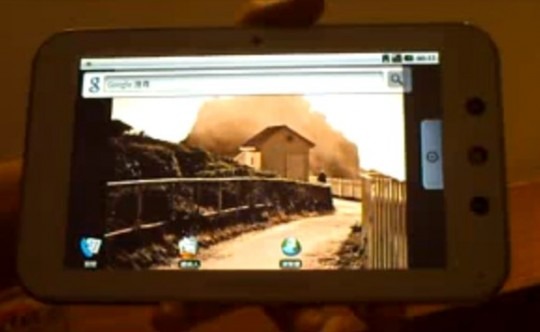 We're not entirely sure what's going on with Camangi's WebStation, but it seems the manufacturers of this 7-inch Android-based touchscreen slate are hoping to drum up their own mystery campaign.  That would, at least, explain the bizarre press release (which you can read after the cut); the official site appears to be down, but Google's cache suggests the WebStation runs Android 1.5 on a Marvell 624MHz PXA303 processor, with onboard WiFi b/g, Bluetooth 2.0 and GPS.Video demo after the cut
There's also a USB Host port (which Camangi suggest you could plug a 3G modem into) and dual cameras.  Up front a 0.3-megapixel camera is good for video calls, while the 2-megapixel version on the back is intended for photography.  Somewhat confusingly, in the video overview the screen is described as "like the iPhone's" which led us to expect a capacitive panel, but the specs suggest it's a WVGA 800 x 480 resistive "hard glass" touchscreen.
Otherwise there's A/V playback, an ebook reader, Google Maps, email and an internet browser, and the whole thing measures 4.7 x 7.9 x 0.53 inches and weighs 13oz; the 4,00mAh battery is tipped as good for 4-5hrs use or three days standby.  According to the press release the Camangi WebStation might arrive in late November 2009, but there's no pricing and the website being down doesn't exactly fill us with confidence.
Press Release:
7-inch Android WebStation points out the trend of future portable device

WebStation runs Android on 7-inch touchscreen with featured functions as web browsing, email, digital photo frame, eBook reader, weather apps and other multimedia functions providing more comfortable size for viewing and also easier to carry around.

This is a 7-inch device named WebStation running a Marvell processor with around 350 grams weight, only 2mm thicker than iPhone and, interesting enough, on Android OS. Reportedly, WebStation is about to launch in the late November of 2009, but everything is still on its way. What we¡¦ve already known is that WebStation has focused on its Internet feature and integrated all daily used functions, such as juggling email, the Web, photo, and media in this stellar device.

What we can see from the new product like WebStation in the market is the trend of terminals. That is, smartphone is trying to support bigger screen whereas Notebook aims to provider smaller and sharper screen. We can say that a tablet-type device with 6 to 9 inch screen will be the next generation of consumer electronics. For example, you don¡¦t have to power on your NB just because you want to check your email or the latest feed of your girlfriend/ boyfriend in Facebook when you¡¦re lying on the couch or even at suburb, just use your smaller and lighter Internet devices, as like WebStation, another easier solution to surfing Internet. 7-inch display not only meets the future trend of mobility, but also keeps the suitability or comfort for screen viewing.

But, why Android? The reason is as the saying goes, ¡§Take not a musket to kill a butterfly.¡¨ Since Android is the operating system dedicated for smartphone originally, it¡¦s much suitable for smaller portable devices that some complicated algorithm is not necessary for. User can easily enjoy lighter and slimmer Internet devices and complete most basic daily requirements instead of using very powerful ¡§smart¡¨ phone or PC tablet.

Although we don¡¦t know the real performance of WebStation yet, we do believe products like WebStation surely point out the demands for a simple Internet device that is sufficient to meet the general daily usage of users.
[Thanks Nick!]