Call Of Duty: Modern Warfare Will Have Cross-Platform Play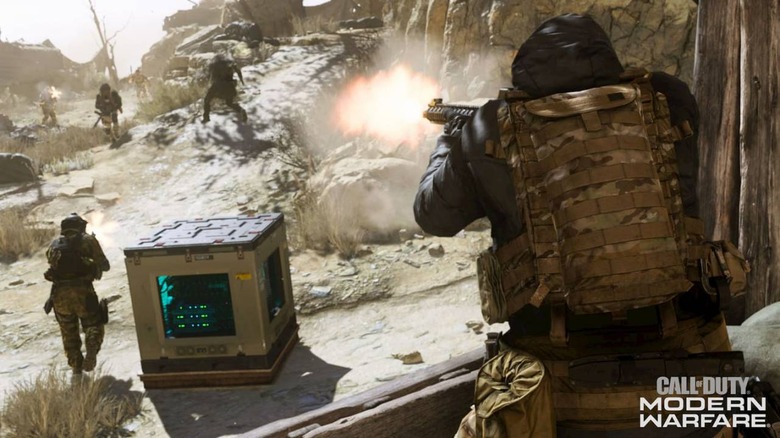 The release of Call of Duty: Modern Warfare is nearly upon us, and when it arrives, it'll be bringing cross-platform play with it. This is a big deal for a Call of Duty game, as it's one of the most enduringly popular franchises around. Crossplay will be going live across PlayStation 4, Xbox One, and PC, so regardless of the platform your friends are playing on, you'll be able to play with them.
Activision says that crossplay will be going live on October 25th, the same day the game launches. Crossplay is live in this weekend's open beta, so you can take it for a spin before the game launches. Activision also says that crossplay is an opt-in, opt-out feature, so if you don't want to play with people using other platforms, you have the option to limit matchmaking to only those on the same platform you're using.
You'll also need to make sure that you have a Call of Duty account before you can use crossplay, or indeed, before you can play Modern Warfare at all. That Call of Duty account requirement has some perks aside from just being another account to sign up for, as it allows from cross-platform friends lists and parties – an important part of cross-platform play.
Activision says that it will balance matches based on input mode. Therefore, if you're playing with a mouse and keyboard, you won't be matched with people who are playing with a controller. The company notes that players on all platforms have their choice of input methods, so those playing on consoles will be able to use gamepads or keyboard and mouse (PC players have the same option, though we imagine most of them will opt for KBM). If you're looking for a little more challenge, you can place in lobbies that don't restrict input methods.
Finally, crossplay will be available across all multiplayer modes in the game, save for Ranked Play and competitive tournaments, of which there are no plans to add this functionality. Call of Duty: Modern Warfare is out on October 25th, 2019, though those who want to check it out sooner can participate in a beta this weekend.