Call Of Duty: Infinite Warfare Is The FPS's Latest Sub-Series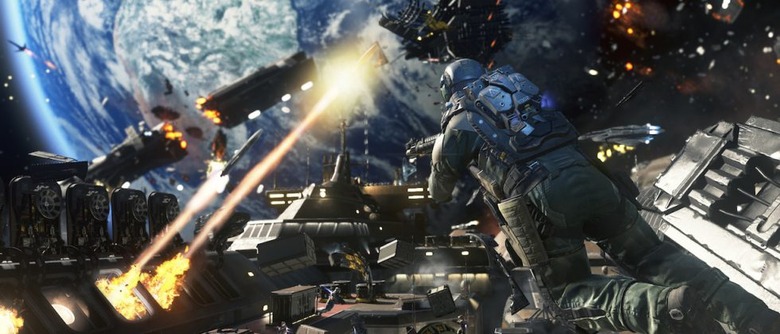 The release of this year's Call of Duty, titled Infinite Warfare, is fast approaching, and many fans of the long-running franchise still aren't pleased. It mostly boils down to two reasons: either they're unhappy that they have to buy the special edition in order to get the remastered version of the beloved CoD4: Modern Warfare, or they don't like the theme changes from modern combat settings to a futuristic, sci-fi story set in space. Unfortunately for those in the latter camp, there's likely to be more Infinite Warfare titles in the coming years.
In an in-depth interview with Polygon, developer Infinity Ward reveals that it's planning for Infinite Warfare to be Call of Duty's latest sub-series, meaning there will be one or more direct sequels. The CoD franchise has seen two sub-series thus far, the Modern Warfare trilogy, also developed by Infinity Ward, and the Black Ops trilogy, created by Treyarch.
"We want to establish our own new sub-franchise, our own new branch of the Call of Duty tree. What we are developing here could certainly support multiple games. We're trying to develop a very rich world that we're not even close to exhausting," said Infinity Ward's narrative director Taylor Kurosaki.
Instead of kicking off sub-series, CoD titles like 2013's Ghosts or 2008's World at War have served as stand alone one-offs. We'll have to wait until next year to see if 2014's Advanced Warfare was the former or the latter.
As for Infinite Warfare, Kurosaki also noted "Everyone was interested in this setting. It afforded us a lot to do from a gameplay perspective. The setting was something we as a team were all united behind." And while players aren't yet completely sold on the new theme, he feels that Infinite Warfare is just as big a shift in CoD as the transition from World War II to a modern setting was.
"I'm sure that the Infinity Ward team felt the same kind of tremendous burden [...] It's an entire world with new weapons, vehicles, AI, under-the-hood stuff. We're doing the exact same stuff here. This is as much of a sea change."
SOURCE Polygon