Call of Duty 4: Modern Warfare Remastered confirmed with emoji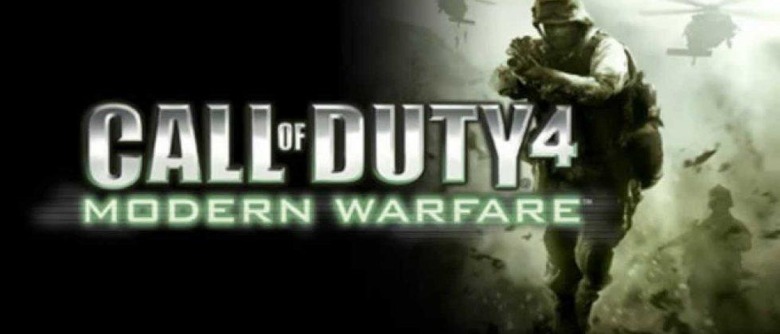 By now you've probably heard something about the leak revealing a remastered version of Call of Duty 4: Modern Warfare, likely to be included with a special edition of this year's Call of Duty: Infinite Warfare. The leak centered on an image posted to Reddit of a pre-order promotion for Infinite Warfare from the store Target. While we're most likely going to hear the official details next week, and more at E3 in June, Modern Warfare Remastered has basically been confirmed in a humorous tweet.
To keep it simple, the official Call of Duty account on Twitter has replied to a fan's tweet about wanting a remastered version of CoD4 on the PlayStation 4. The reply consists of exactly two emoji, which are directly related to @ngusvanderslott's request, made in December 2014: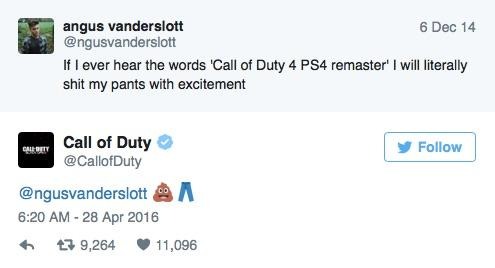 There you have it folks. It's hard to debate a game's confirmation made with little more than the poop and pants emojis. Then again, other than GIFs, there really is no more modern way of communicating on the internet.
What makes the tweet so hilarious is that Activision, or whoever was controlling the @CallofDuty account at that moment, took the time to dig up a year-and-a-half old tweet to respond to. We're just lucky that @ngusvanderslott's original comment included terms with corresponding emoji.
It's still not clear yet if CoD4: Modern Warfare Remastered will be sold separately, or is directly limited to purchases of a premium version of Infinite Warfare. Both games are expected to be available in November, the standard period for annual CoD releases. Hopefully @ngusvanderslott will have changed his pants by then.
SOURCE Call of Duty/Twitter