California hits driest point in 500 years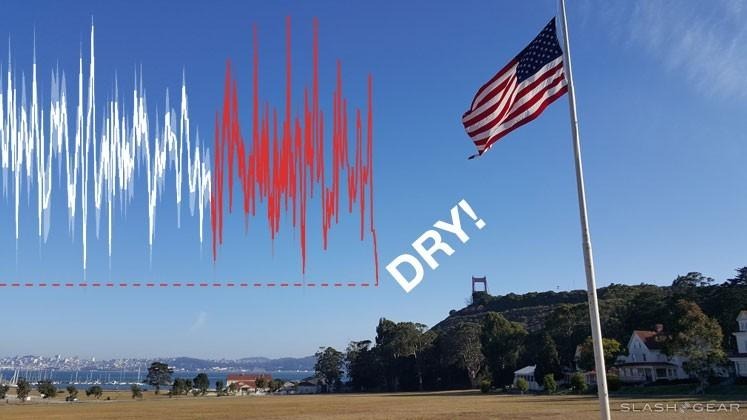 The state of California is now officially drier than it's been in hundreds of years. A multi-century evaluation of the Sierra Nevada snowpack saw to that this week. Since the year 2012 a record-setting drought has been worsening in California. It's bad. It's so bad, as this evaluation reminds us, that the state recently enacted its first ever state-wide mandatory restriction of water use by the public. A team of researchers shows this week that the 2015 low in snow water equivalent (SWE) in the Sierra Nevada mountains is "unprecedented in the context of the past 500 years."
This research suggests that their error estimation may include some near-lowest SWE values in the Sierra Nevada mountains over the past several hundred years. This means we might NOT be in the very driest season in the past 500 years – but – it's far more likely that we are.
These researchers say that their return value is exceptional – likely the most dry – based on generalized extreme value (GEV) distribution over the past 3,100 years. Low values have been found in the past several hundred years – like in 1977, for example, where SWE levels reached their lowest in 60 years.
It's suggested that SWE level here in 2015 is "extremely exceptional" at low-elevation Sierra Nevada sites. Some sites, they say, are drier than they've been in 1,000 years.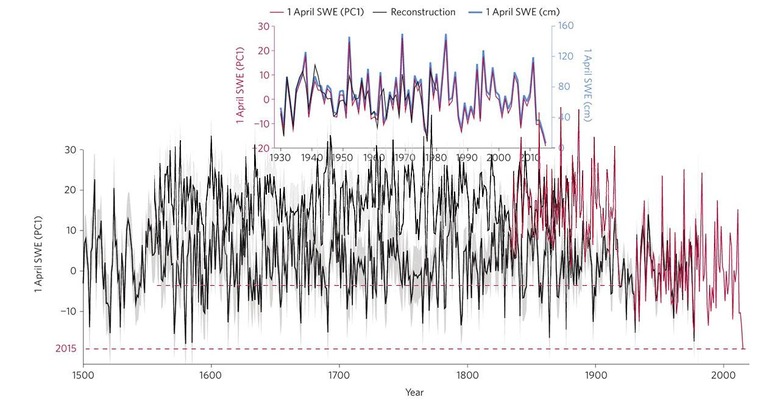 "Multi-year and severe snowpack decline can acutely impact human and natural systems," said researcher Soumaya Belmecheri et all, "including urban and agricultural water supplies, hydroelectric power, and wildfire risk."
You can learn more in the paper "Multi-century evaluation of Sierra Nevada snowpack" authored by Soumaya Belmecheri, Flurin Babst, Eugene R. Wahl, David W. Stahle, and Valerie Trouet, and published by the scientific journal Nature. This paper can be found with code doi:10.1038/nclimate2809 from September 14th, 2015 forward.