Cadillac "driverless" tests underway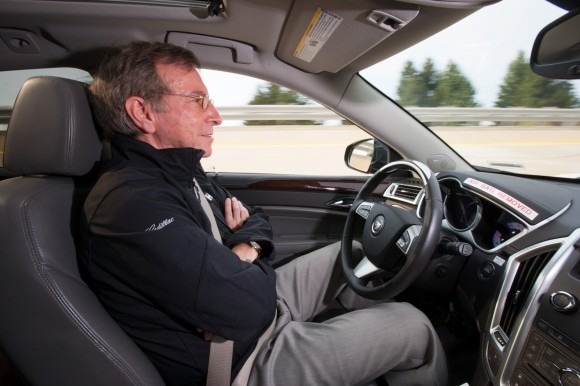 There are some real live Cadillac-made semi-automatic "driverless" cars being tested this week using technology they call "Super Cruise." This mode of driving allows for fully automatic steering, lane-centering, and braking in highway driving conditions – but they've got to be optimal or it does not work. Detroit's test runs this week are said by Cadillac to possibly be ready for real-world use by the middle of the decade – we're looking at a boss here, folks, no hands!
The two optimal conditions (if you can call them that) Cadillac is addressing here are bumper-to-bumper traffic and extremely long road trips. These conditions will be aided by ultrasonic sensors, GPS map data, and radar – all fused together. As Don Butler, Vice President of Cadillac Marketing noted this week:
"Super Cruise has the potential to improve driver performance and enjoyment. Our goal with advanced technologies, like this and our CUE system, is to lead in delivering an intuitive user experience." – Butler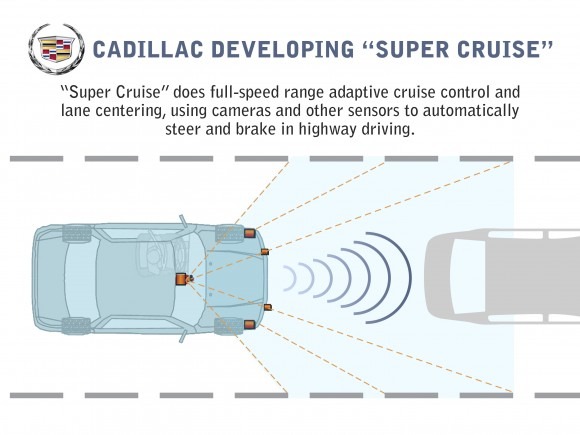 CUE stands for Cadillac User Experience and in this iteration includes such amenities as a touch-screen center radio panel, in-car GPS, and integrated digital displays in and around the driver's speed and gas gauges. The Super Cruise feature is made up of a bunch of features already existing in Cadillacs on the market. Cadillac's Driver Assist Package contains many of these features, currently listed under crash risk detection as well:
• Rear Automatic Braking
• Full-Speed Range Adaptive Cruise Control
• Intelligent Brake Assist
• Forward Collision Alert
• Safety Alert Seat
• Automatic Collision Preparation
• Lane Departure Warning
• Side Blind Zone Alert
• Rear Cross Traffic Alert
• Adaptive Forward Lighting
• Rear Vision Camera With Dynamic Guidelines
• Head Up Display
This new system which will be essentially driving the car for the driver will be first and foremost developed as a safe system. Wouldn't want something awesome to be in place just to have it be a danger in the end, would they? As General Motors director of Global Active Safety Electronics and Innovation John Capp notes:
"The primary goal of GM's autonomous and semi-autonomous vehicle development is safety. In the coming years, autonomous driving systems paired with advanced safety systems could help eliminate the crash altogether by interceding on behalf of drivers before they're even aware of a hazardous situation. More than ever, consumers will be able to trust their car to do the right thing." – Capp
Are you ready to allow your car to drive for you? Google is attempting to create something to this effect as well – watch out for robots and Men in Black!
[via GM]