Cadence Watch Company celebrates Binary Day with 4-Bit watches release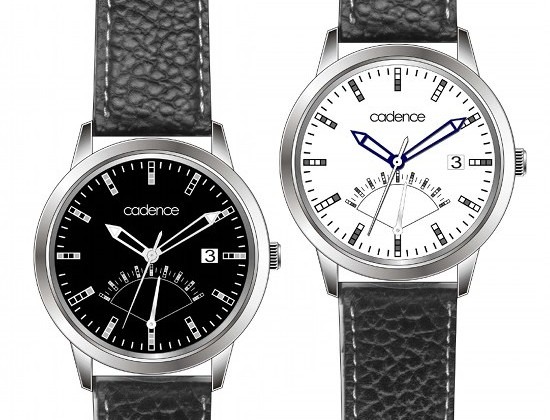 Today the watchmakers at Cadence have announced their brand new Fall lineup of 4-Bit Watches, each of them in celebration of Binary Day: 1/11/11! That's today, if you did not know, and the collection includes a fine trio: 4-Bit Retrograde, 4-Bit UTC Chrono and 4-Bit Chrono. A 4-bit watch in this case means that the usual roman numerals around the face of the clock have been replaced by 4-bit binary graphics. 1 and O and 1 and 0 until you understand how to speak Computer.
These watches are utterly simplistic, having just a simple leather wristband and a 43mm stainless steel casing around the clock which display which has several different optional sets of information. For the 4-Bit Retrograde, you've got the same binary clock times with the ability to display dual time or Universal Coordinated Time (UTC) so you'll be sure to be able to get to where you're going without worrying any face is slow. You'll have the choice of either a white or a black face with features in the opposite color.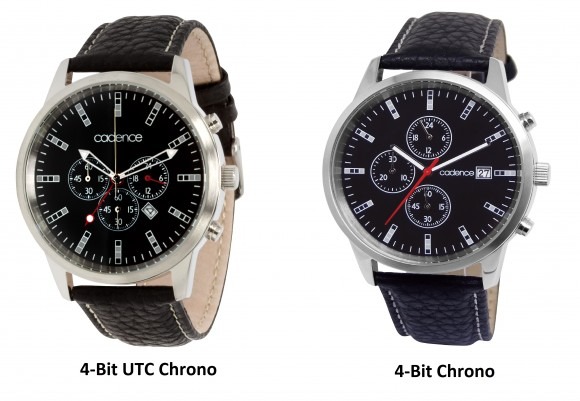 Next there's the 4-Bit UTC Chrono, which, as the name suggests, has a chonograph on the face. You'll get the same 42mm stainless steel case and some lovely luminescent hands to show up smoothly across the black face of the watch – plus the UTC to keep you synced. Finally there's the 4-Bit Chrono, which is essentially the same watch at the UTC Chrono but without the UTC. Each of these watches uses a Japanese Miyota movement, this meaning you'll never have to wind the watch, plus a sapphire coated quartz glass to prevent the face of the watch from getting all scuffed up with scratches.
The 4-Bit Chrono and the 4-Bit Retrograde will cost you $185 while the 4-Bit UTC Chrono jumps up slightly to $195. There's also a Binary Day sale going on today which will get you 25% off on any of these watches. Grab em at Cadence Watch Company (if they're not up when you click in, they'll either be available later today or they're completely sold out.)