C-3PO's red arm explained in a new Marvel Comic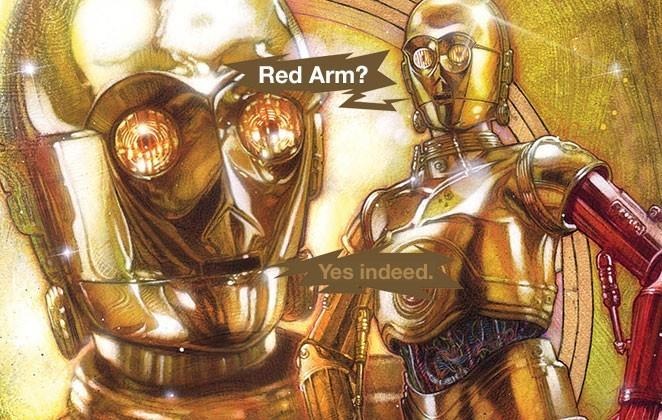 This December (before Star Wars: The Force Awakens, we must assume), C-3PO's red arm will be explained in a comic book. Made by Marvel Comics and coming with a bonus digital edition with purchase, this comic will be a one-shot. That means it's not necessarily going to be a super long comic series – just a limited set. The comic goes by the name Star Wars Special: C-3P0 #1, and it'll be written by a fellow who's especially pumped up to be telling the tale.
"That's a really exciting part of doing this story," said writer James Robinson, "I saw a photo of C-3PO with his red arm the other day and I thought 'Wow, I'm the writer who gets to explain that.'" Robinson is teaming up with artist Tony Harris for this comic.
These two co-created the comic series Starman and earned themselves an Eisner Award for their work together. They're good. They're very good.
Tap the thumbnail above to see the full-sized version of the cover via StarWars.com.
This is just the latest title to be announced in the "Journey to Star Wars: The Force Awakens" publishing program that'll be bringing comics (and other oddities) to the public over the next few months.
Stick around SlashGear's Star Wars tag portal for more #ForceFriday action and The Force Awakens releases too!
VIA: MakingStarWars