Bypassing Vista for Windows 7 is okay, says Ballmer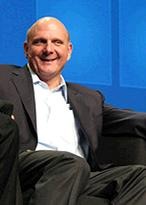 Steve Ballmer would like you to know that, if you'd rather not bother with Windows Vista and instead just kick back until the Microsoft's next-gen OS Windows 7, that's okay with him.  I mean, he'd prefer you to upgrade now – in fact, if he was you then he'd definitely be installing Vista, probably right this second – but Microsoft will be there waiting for you when you want Windows 7.  Speaking at the final Gartner Symposium ITxpo keynote in Orlando yesterday, the Microsoft CEO defended Vista adoption rates as well as protesting claims that the company's upcoming OS is a "minor release".
"Our next release of Windows will be compatible with Vista. The key is let's get on with it. We'll be ready when you want to deploy Windows 7"
The "permission" to wait to upgrade came in response to suggestions that the current economic climate might tempt IT teams to delay replacing Windows XP. Ballmer suggested that corporate transitions are more likely to be prompted by new hardware acquisitions, rather than a sweeping software update across a stable setup, but that if organisations chose to delay then Windows 7's compatibility with Vista would minimize any transition concerns.
Asked about the Yahoo! acquisition plans, Ballmer remains open-minded. "We offered $33 bucks (for Yahoo) and it's $11 today" he reminded the audience, but maintaining that "it makes sense for their shareholders and ours."  Less enthusiastic was his attitude to Google Apps, dismissing the online Office rival as "very primitive" and not a key competitor compared to OpenOffice and StarOffice.