Buffalo, D-Link, LaCie & Seagate sign up to offer Marvell Plug Computers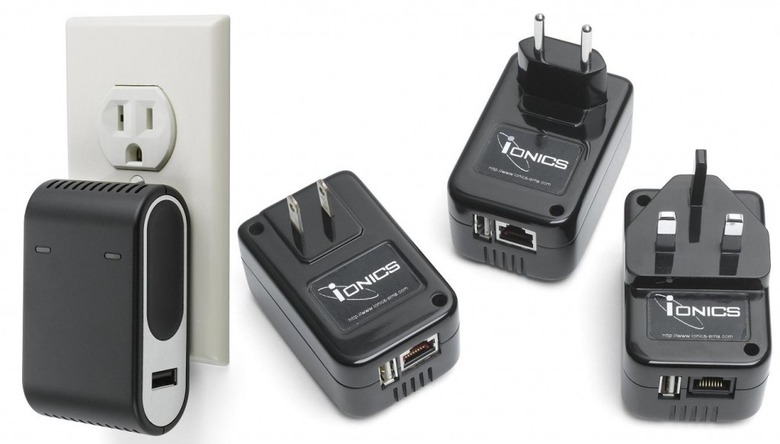 Marvell's SheevaPlug wall-wart Linux PC has finally come of age, with the company announcing mainstream retail partners including Buffalo, D-Link, LaCie and Seagate, together with beginning distribution of the Plug Computer development kit in Europe.  The original SheevaPlug has a Marvell Kirkwood processor with a 1.2GHz Sheeva processor, 512MB of RAM and 512MB of flash storage; resembling a wall-wart, it plugs directly into a power socket and offers a single USB 2.0 port and a gigabit ethernet port.  Suggested uses included a home server, NAS or other form of network-connected device.
Various companies have partnered with Marvell to offer Plug Computers in multiple form-factors.  These range from Axentra, who have a new touch*mediacenter mini designed to store and share digital content, Eyecon Technologies, who are positioning their version as a multi-source UPnP/DLNA aggregator, and CodeLathe, whose TonidoPlug is a home server offering local and remote access to documents, apps and media.  Ionics have taken a more general approach, positioning their Plug Computer as a tiny Linux PC, while ProSyst have integrated OSGI and Java to their version, to enable developers to more easily port existing apps and create new software.  Finally, WebTView have loaded their own software to discover and play internet TV.
The various form-factors include a simple box that closely resembles the original SheevaPlug prototype, together with more streamlined and even circular designs.  Of course, as well as the development device from Marvell themselves, the first retail device based on the reference design is already available, in the shape of the PogoPlug.
According to Marvell, a Plug Computer uses less than one tenth of the power of a regular home server PC.  It supports multiple Linux 2.6 kernel distributions, and is available to developers now for $99.
Press Release:
Marvell Introduces Plug Computing to Europe

SheevaPlug Now Available to Developers in Europe; Ecosystem Partners Commit to Retail Products for Consumers

Santa Clara, CA (June 24, 2009) —Marvell (NASDAQ: MRVL), a leader in storage, communications, and consumer silicon solutions, today announced that developers in Europe can now purchase SheevaPlugTM development kits, outfitted for regional electrical specifications, through www.plugcomputer.org from Ionics EMS, Inc. and Globalscale Technologies. In addition to broadening the outreach to application developers, Marvell is growing the plug computing ecosystem by working with retail vendors such as BUFFALO INC., D-Link, LaCie and Seagate, who plan to launch retail versions of the plug computer for the consumer market.

"The Plug Computer is one of the more amazing technologies that have come out this decade and it has the potential to change the world," said Rob Enderle Principal Analyst for the Enderle Group. "The open plug platform gives European developers the opportunity to create applications, services, and solutions that are only limited by their imaginations."

Marvell introduced the Plug Computing initiative to make high-performance, always on, always connected, and environmentally friendly computing readily available for developers and end-users. A Plug Computer is small enough to plug directly into a wall socket and is designed to draw so little power that it can be left on all of the time. Unlike other embedded devices in the home, it contains a gigahertz class processor that is designed to offer PC class performance.

"The wide range of applications created from the open-developer SheevaPlug platform serves both retail product partners and service providers," said Dr. Simon Milner, Vice President and General Manager of the Enterprise Business Unit, Consumer and Communications Business Group at Marvell Semiconductor.  "We are thrilled to introduce SheevaPlug to the European developer community and look forward to seeing many new applications and new consumer product ideas developed and brought to market.  Moreover, Marvell is delighted to collaborate with retail partners such as BUFFALO INC., D-Link, LaCie and Seagate on delivering new levels of user experience to consumers"

The plug computing ecosystem is rapidly expanding to include a full value chain of product partners, application developers and educational institutions. A full list of ecosystem partners is available at www.marvell.com

About the SheevaPlug Development Platform

The SheevaPlug development platform uses a Marvell KirkwoodTM processor based on an embedded 1.2GHz Sheeva™ CPU equipped with 512 Mbytes of FLASH and 512 Mbytes of DRAM. Connection to the home network is via Gigabit Ethernet. Peripherals such as direct attached storage can be connected using a USB 2.0 port. Multiple standard Linux 2.6 kernel distributions are supported on the SheevaPlug development platform enabling rapid application development. The enclosure is designed to plug directly into a standard wall socket and is designed to draw less than one tenth of the power of a typical PC being used as a home server.

About Marvell

Marvell (NASDAQ: MRVL) is a leader in the development of storage, communications, and consumer silicon solutions. The company's diverse product portfolio includes switching, transceiver, communications controller, wireless, and storage solutions that power the entire communications infrastructure including enterprise, metro, home, and storage networking. As used in this release, the terms "company" and "Marvell" refer to Marvell Technology Group Ltd. and its subsidiaries. For more information, visit http://www.marvell.com.