Buddha statue contains mummy in "advanced state of meditation"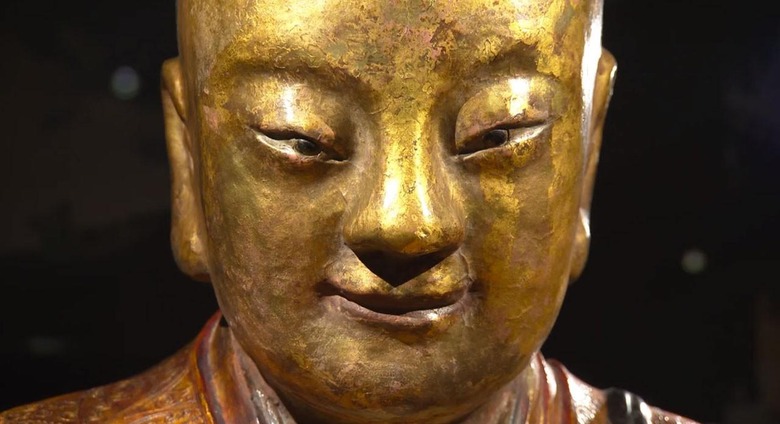 The man inside this statue is dead according to conventional knowledge and science – but don't tell him that. The Netherlands-based Drents Museum at the Meander Medical Centre in Amersfoort has taken to scanning this particular fellow recently. The only Chinese buddhist mummy "available in the West for scientific research," they say, and Erik Bruijn, buddhist art and culture expert, is in charge of the project. Under his care, this reliquary – as its being called – has been under close watch, and ceremonies before scans have been implemented.
The CT scan that took place weeks ago had very little to do with the idea that this mummified man was still "in meditation." Instead, the case here and similar cases are believed by some buddhists to be part of a similar ending – the tukdam state – for advanced monks.
From a very similar case earlier this month in Siberia, The Siberian Times spoke with Dr Barry Kerzin, buddhist monk and physician to the Dalai Lama.
"I had the privilege to take care of some meditators who were in a tukdam state," said Kerzin. The tukdam state is a very deep meditation in which the meditator keeps perfectly still for days or weeks.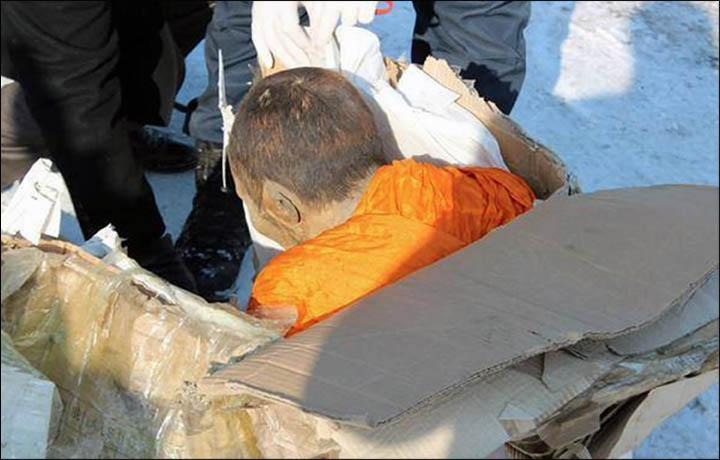 Above: via the Siberian Times, the mummified remains of a buddhist found in the Songinokhairkhan province in Mongolia earlier this year. Similar monks in the tukdam state have been discovered all over the world.
"If the person is able to remain in this state for more than three weeks – which rarely happens – his body gradually shrinks, and in the end all that remains from the person is his hair, nails, and clothes," continued Kerzin. "If the meditator can continue to stay in this meditative state, he can become a Buddha. Reaching such a high spiritual level the meditator will also help others, and all the people around will feel a deep sense of joy."
Those researching the statue of this Chinese buddha certainly felt joy upon scanning the Chinese buddha statue we're speaking about today.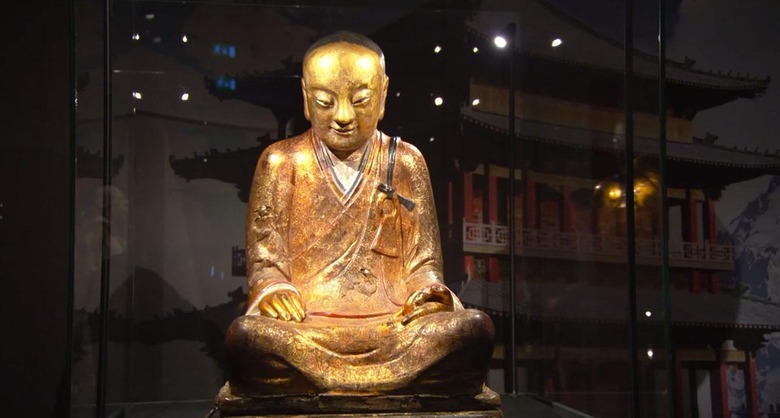 The mummified buddha statue being scanned at Meander Medical Center is a nearly thousand-year-old Chinese relic.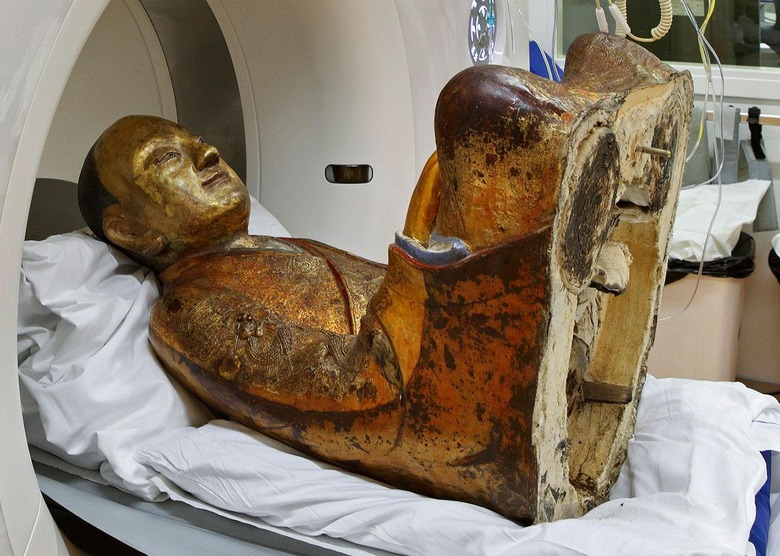 ABOVE: The buddah statue receives its second scan after the exhibition (listed below) is complete. Below you'll see officials from the Meander Medical Center inspecting initial data near the buddha statue and the scanner.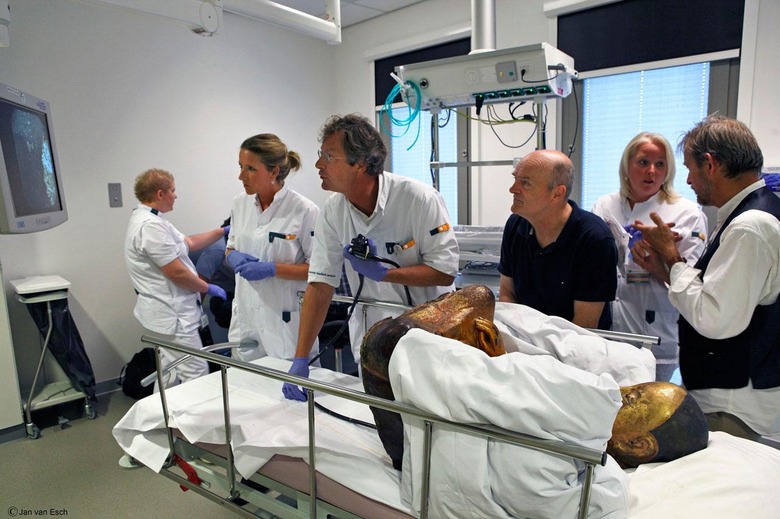 Upon scanning the statue, suspicions that there was a human body inside the statue were confirmed. It was also confirmed that in a place where there had once been organs, there was now scraps of paper.
Ancient, rotting material sits inside the body of this buddhist, paper scraps printed with ancient Chinese characters amongst them.
Mummified buddhist master Liu Quan. Statue (L), CT scan (R). (Photos: Drents Museum) Click the image above for a full-sized version.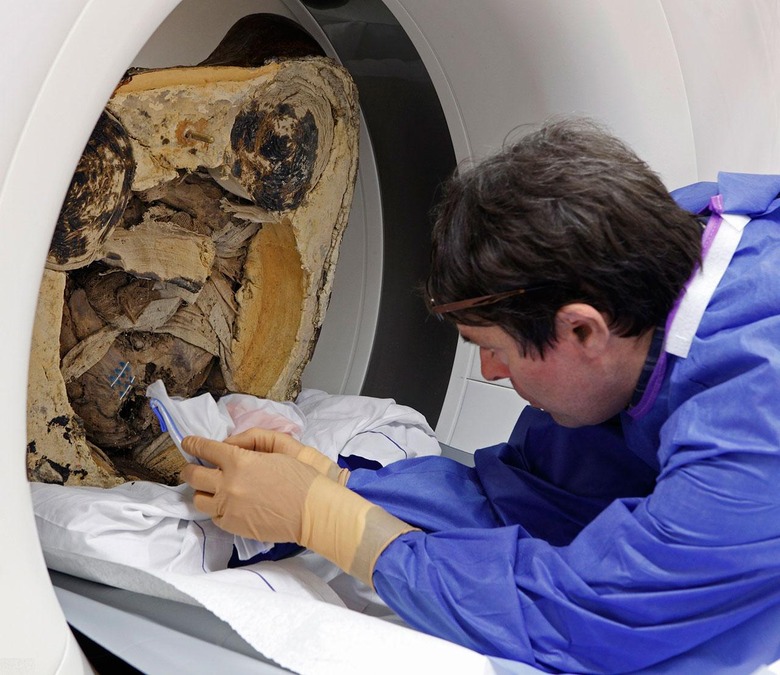 Researcher Are Heggelman gathered bone material for DNA testing – results will be published later this year.
According to the Drents Museum release, this monk lived around the year 1100 CE.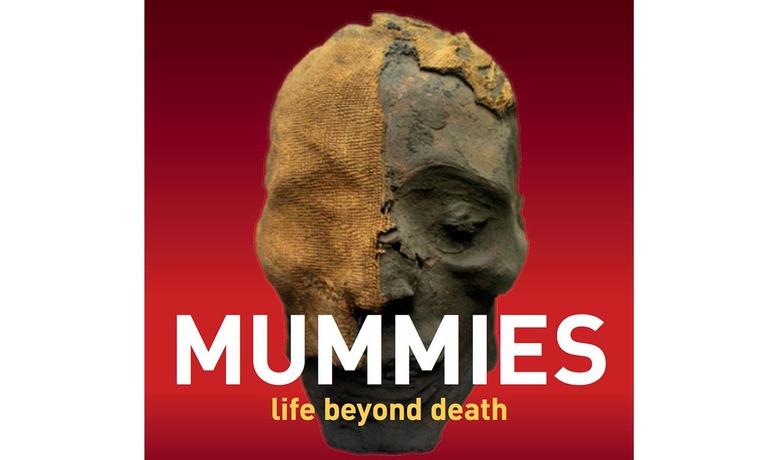 Before being scanned, this statue was part of a Drents Museum exhibit called "Mummies: Life Beyond Death" which took place between February and August of 2014.
The statue is now being housed in an exhibition called MUMIAVIAG, aka Mummy World, at the Hungarian Natural History Museum.
Be sure to check out more oddities in SlashGear's wild world of Science.