Brookstone iConvert Scanner for iPad Review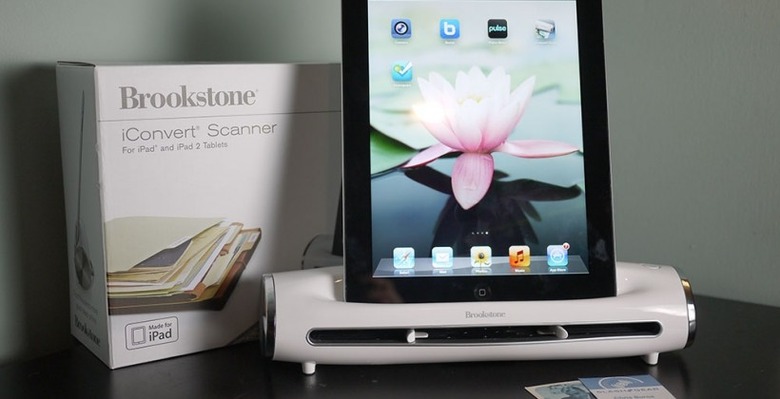 When it comes to scanners, there certainly are some much higher quality solutions than Brookstone's iCovert Scanner – but none of them are as nearly as entertaining. This device works with the iPad, iPad 2, and iPad 3, and is able to scan documents in what's certainly a small package compared to the bulk of the stay-at-home scanners on the market today. You'll bust this Brookstone device out, plug it in to the wall, dock your iPad, and start scanning with the free iConvert app – all of your images go directly to your iPad Camera roll at 300 dpi.
This device is not extremely portable, though Brookstone does suggest that you slide it into your messenger bag for some coffee-shop scanning if you feel so inclined. Your controls include a single physical power button on the iConvert unit, a couple of guides for your paper as it moves into the unit, and some on-screen controls on your iPad. The one control you get inside the application you need to make the iConvert work is a "Scan" button which, after the machine pulls in just the edge of your document, will commence with the feeding of the document through the scanner with the results being an image on your iPad.
The app also allows you to "clean" the iConvert unit as well as calibrate it, both of these a necessity if you're going to be using the scanner quite often. The calibration button will be helpful if your iConvert starts pulling paper in at oblong angles, while the cleaning option will help with paper jams. You can try to scan all manner of documents here, from just a bit smaller than a standard business card up to a bit larger than an 8.5 x 11-inch piece of paper.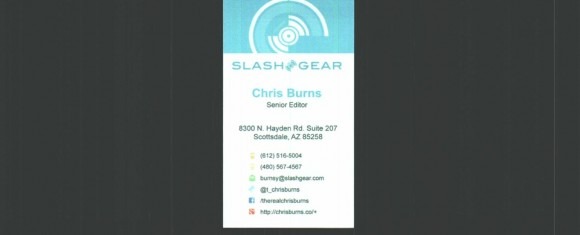 Once you get smaller than the card we scanned here, the iConvert Scanner's feed wheels can't really catch correctly and you've got the danger of a crumpled up piece of media. Above you'll see two examples that we scanned in the hands-on video you see above as well. In the gallery below is an example of a messed-up scan as well, this the result of holding on to the paper instead of allowing it to feed through correctly.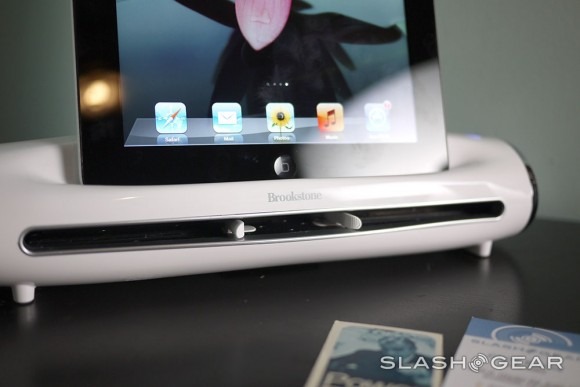 This device will cost you $149.99 at Brookstone's online shop as well as at Brookstone stores across the country. While I wouldn't recommend you pick this piece of hardware up for scanning your fine art, it's certainly decent enough to scan in your children's drawings and everyday oddities while you're out and about.