Brookstone HDMI Pocket Projector Review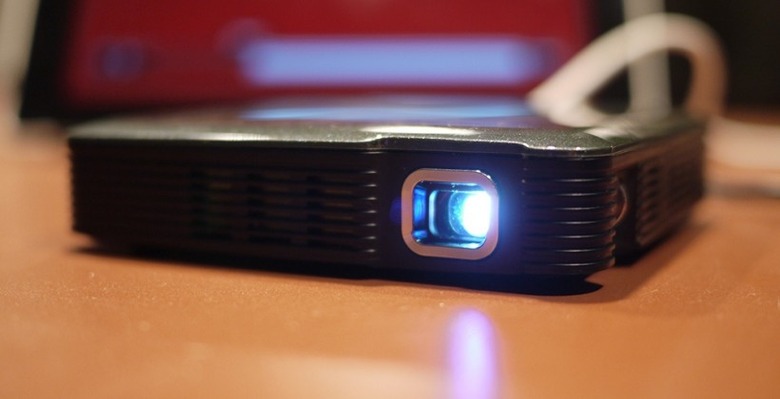 It's time to get giant with the Brookstone HDMI Pocket Projector, the newest fun and entertaining light pusher on SlashGear's own review bench! This device connects to whatever device you've got on hand that can push images via HDMI, with a set of controls that so simple to understand, you'll not need to peek at the instructions even once. What we've got a demo of here is the device working with an iPad – but the limits of your HDMI-connected greatness are up to you!
In our hands-on demo here you'll find that we've got an Apple Digital AV Adapter working with the HDMI input on the device – this adapter is sold separately, and you should note that you'll need it to work with the iPhone and the iPad. This is a similar situation to most other smart devices as it's rare that you'll find one that outputs directly to full-sized HDMI. Of course there's always the Motorola lineup of Android smartphones, for the most part – ease in conversions via built-in HDMI right out of the box! You get a 3 foot HDMI cable, a micro-HDMI adapter, and a mini-HDMI adapter included in the package.
The Brookstone HDMI Pocket Projector contains a 3800mAh battery that's both rechargeable and is able to act as an output battery for your mobile devices through the projector's full-sized USB port. This means that if you've got a smartphone that you're using to output to HDMI and you're in need of some extra power for the phone itself, you've only to plug into the projector with your standard USB cord to the phone. Of course that means a much quicker drain on the battery that's already working quite hard if you're projecting at the same time, but there's always the chance of emergency – and you won't find this feature on one whole heck of a lot of similar devices either, I can tell you that.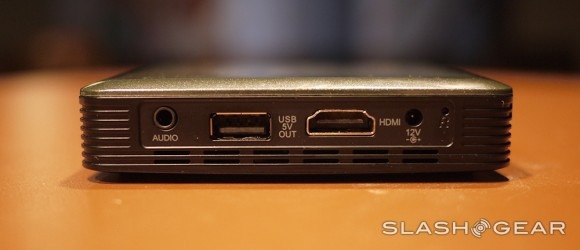 You've got dual built-in speakers that are quite generous, made for a small space and loud enough for a crowd of just a few people. You've got an audio out port though for extra speaker action if the standard inbuilt speakers are not enough for you. The focus of your picture is done with a simple adjuster up near the front lens, the projection shining bright and up to 1080p resolution in a 60-inch image on your wall.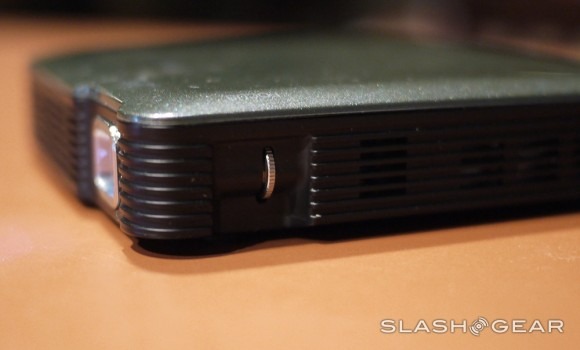 And it is indeed quite bright and sharp – amongst the best we've seen. The mega-bright LED lamp projects at what Brookstone notes is 85 lumens "for up to 2 hours on a single charge." We've also found this claim to be quite accurate – with a full charge, we've been able to watch full-length movies unplugged without a problem.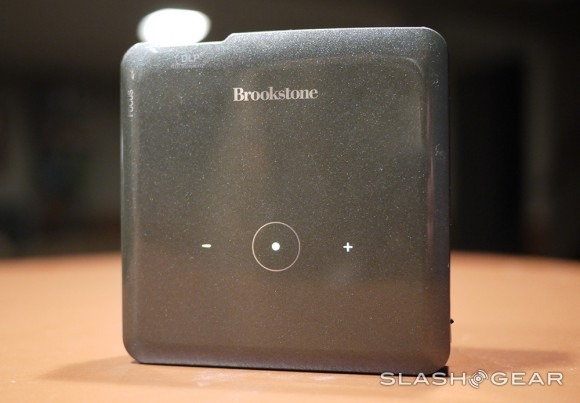 The whole device measures in at 3.9 w x 3.8 d x 0.89 inch h, and weighs in at half a pound – it's small enough to fit in your pocket and light enough to forget about. The cords will be the only hassle you'll have to consider when thinking on your next anywhere-use projector experience. And even those aren't going to be a big deal if you've got a simple converter for HDMI – minimalize!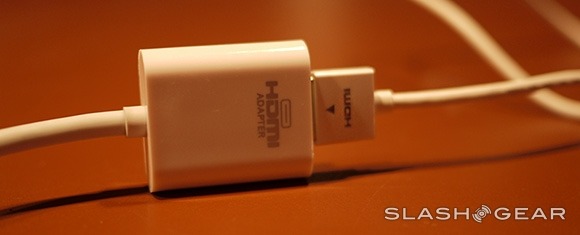 This device will cost you $299.99 USD straight from Brookstone right this minute, and they've got their free shipping online deal going now for all devices over $99 – or you can grab it from your local Brookstone store too, right in hand. With enhanced DLP technology from Texas Instruments bringing the brightness and sharpness to this beast up front, you'll have the whole big-time light-blasting world at your fingertips right out of the box.