Brookstone Bluetooth Keyboard Pro for iPad Review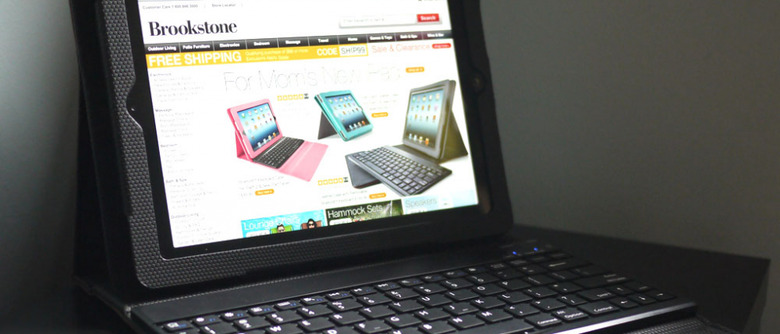 There's a brand new high-quality keyboard case in town, and it's got the name Brookstone on it. You know in your heart of hearts that this means it's mean to be high quality, and indeed you will find that this is true once you have a peek at this review. There's only a few components you need to nail down for a successful Bluetooth keyboard case for the iPad, each of them pretty much mastered here by Brookstone in their "Pro" model – but how does it measure up against the competition?
What we've got here are several simple elements, the first being the look and feel of the case. It looks like leather, feels like leather, and even has markings like leather – you know you've got a high quality product here right out of the box. There's a hole for your camera (if you're using iPad 2 or iPad 3) and the whole thing is rigid enough to hold your iPad up but bendable enough not to want to crease on you. This unit isn't heavy, but is heavy-duty, and does indeed contain a keyboard worth using.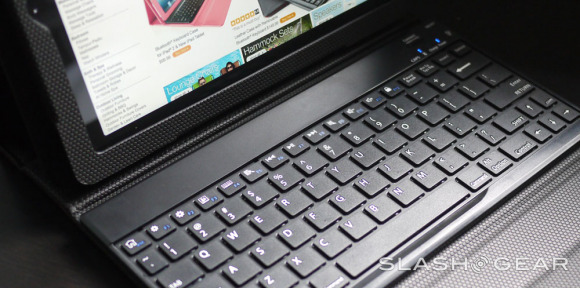 Compared to the Logitech Ultrathin Keyboard we've got only a few differences when it comes down to it, one of them being protection. While the Logitech unit is made to be rather non-intrusive with the original design of the iPad 2/3, it does not offer protection for the back of the unit. It's also not designed to absorb any impact if you drop it and the iPad together. The Brookstone unit here really is meant to act with some damage control. Not nearly as much as the G-Form Extreme Portfolio, but enough for your average day at least.
[vms 55908be746d245e50263]
The keyboard itself has some really nice spring to it, connects via Bluetooth to your iPad with great ease, and does indeed feel natural to use. You've got several lights in the upper right of the pad that show if you've got caps-lock on and Bluetooth as well as power, and the whole pad is made of a high-quality solid plastic. You'll find that this case with keyboard integrated in will make your iPad experience much more expansive than ever before.
You can pick this case up at Brookstone right now for $149.99 in Brookstone's online shop in several fabulous colors. Matte Black, Shiny Black, Matte Brown, Distressed Brown, and Shiny Red are all available, each of them real genuine leather. Grab it!