Broadcom Persona ICE SoC headed to Compal tablets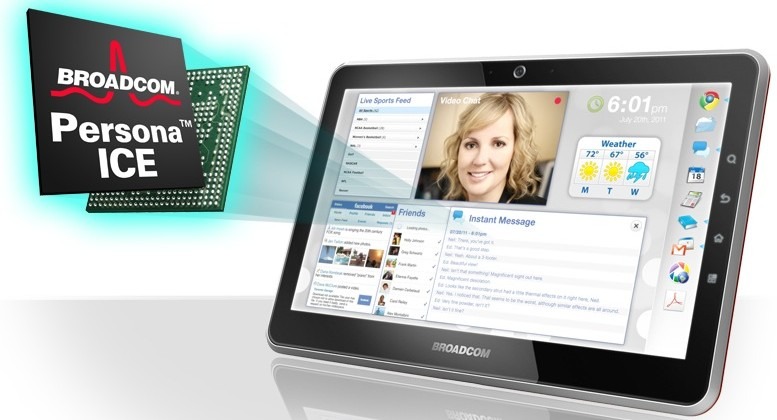 Last we heard of Broadcom's Persona platform, it was being billed as a DVR chipset. Now, the next generation has expanded its ambitions, and has found a home in Compal tablets. The two companies have announced that the Broadcom Person ICE will form the single- or dual-core 1GHz+ ARM Cortex A9 heart of future slates from the ODM.
Persona ICE also includes VideoCore IV graphics, capable of 3D games at up to 1080p resolution, and a DSP system for VoIP. Connectivity options include HDMI, WiFi, Bluetooth and GPS, all in a single package capable of Flash playback and HD video conferencing.
Compal reckons it will be able to speed up development time by using the Persona ICE chip for "turnkey" slates for its clients, running Android or other Linux OSes. No word on when we'll see the first products hit the market, however.
Press Release:
Compal Selects Broadcom's Next Generation Persona® ICE Solution to Address the Growing Tablet and Connected Home Market

New Completely Integrated Persona ICE Platform will be Showcased at this Week's International Consumer Electronics Show

LAS VEGAS, Nev. – 2011 International CES – January 7, 2011 – Broadcom Corporation (Nasdaq: BRCM), a global leader in semiconductors for wired and wireless communications, today announced that its next generation Persona® ICE (Information Connectivity Entertainment) applications processor family will be powering new high-performance multimedia tablets from Compal Electronics, one of the leading PC ODMs in the world. Leveraging Broadcom's strength as a wireless connectivity leader, the Persona ICE platform converges key system and software technologies to deliver unique and intuitive applications across increasingly interconnected consumer electronics devices in the home.

Designed in a low power 40 nanometer (40nm) CMOS silicon process, the Persona ICE family, which includes the BCM11311, consists of dual-core 1GHz+ ARM® Cortex A9 processors integrated with Broadcom's industry-leading VideoCore® IV graphics and multimedia subsystem and a rich set of peripheral interfaces. Persona ICE also integrates an additional dedicated digital signal processor enabling Broadcom's SmartAudio® suite of audio enhancement solutions for VoIP and IP Communication applications. The multi-core architecture leaves the flexible computing power of the ARM cores free to handle user-specific software applications.

Broadcom and Compal Electronics will demonstrate the next generation Persona IP communications platform at this week's International Consumer Electronics Show in Las Vegas.

Highlights/Key Facts:

· Broadcom has created a unique connected home platform by integrating key industry-standards and proprietary technologies from its home, infrastructure and handheld businesses such as DLNA® and Wi-Fi CERTIFIED Wi-Fi Direct™. The connected home platform enables seamless interaction of devices enabled by Persona ICE with other devices in the connected home such as set top boxes (STBs), smart televisions, mobile phones, smart appliances and smart grid applications.

· The new Persona ICE platform includes:

o Single or dual-core ARM Cortex A9 cores at GHz+ frequencies that incorporate the ARM Neon™ 128 bit SIMD (single instruction, multiple data) engine, important for delivering flexible, powerful acceleration and low power operation for consumer multimedia applications such as Adobe Flash®.

o Broadcom's industry-leading VideoCore IV intelligent mobile multimedia processor subsystem that delivers full HD videoconferencing capabilities and dual-camera support. This core has the ability to render 3D mobile games natively at up to 1080p resolution which in combination with an HDMI output, allows a console-quality gaming experience on large screen HDTVs.

o Tightly integrated software that is architected specifically to leverage the Persona ICE hardware architecture. The Linux®-based Broadcom MediaxChange™ software enables hardware-accelerated, high performance and low power voice, video and multimedia integration into a variety of high-level operating systems such as Google's Android or proprietary OEM frameworks. Customers can leverage a common software code base across product portfolios, which in turn, minimizes engineering investment and time-to-market.

· Leveraging Broadcom's position as a wireless connectivity market leader, all Broadcom® Persona ICE solutions incorporate Broadcom's industry-leading connectivity and interoperability technologies.

o Broadcom's industry-leading Bluetooth®, Wi-Fi®, and GPS, connectivity products are pre-integrated into the Persona ICE platform, enabling OEMs to efficiently add best-in-class wireless technologies and expanded functionality for next generation Tablets.

o Broadcom's InConcert® co-existence technology applies interference mitigation techniques to make its leading wireless technologies work better together.

Supporting Quotes:

Ray Chen, CEO and Chairman of the Board, Compal Electronics Inc.:

"Compal Electronics is pleased to partner with Broadcom to deliver differentiated tablet platforms to market. The new Persona ICE platforms are delivered as completely integrated systems enabling Compal to optimally deploy our R&D for fast time to market. We look forward to leveraging Broadcom's technology and unprecedented market reach to jointly address new market segments."

Robert Rango, Executive Vice President & General Manager, Broadcom's Wireless Connectivity Group:

"Compal is one of the premier designers and manufacturers of mobile PCs in the world. Our partnership with Compal enables the delivery of a world-class platform allowing us to address our customers' demand for turnkey tablet solutions."