Brikk 24k gold Lux Nikon Df goes on sale for $41,395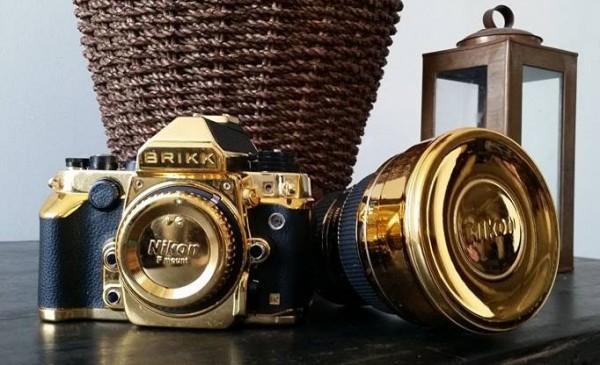 Brikk, the luxury brand known for offering the iPhone and other smartphones covered in gold and platinum, has announced the release of a special edition Nikon Df camera kit finished in 24 karat pure gold. For an incredible $41,395, buyers will get one of 77 limited edition models, which includes the camera body, a Nikkor 14-24mm f/2.8 lens, and accessories, all plated in yellow gold.
The Brikk Lux Nikon will look and function exactly as a standard Nikon Df model, aside from all the gold on it. The digital camera features a 3.2 inch LCD display on the back, and a 16.2-inch FX-format CMOS sensor. The non-gold portions, including the hand grips, zoom and focus rings, and the top of the flash are all covered in black stingray leather. In addition to the standard Nikon parts, like the battery charger and cables, the kit comes with a lens cap and lens hood, decked out in, you guessed it, 24k gold. If that weren't enough, the whole thing comes in a custom hard shell case from Zero Haliburton that is likewise gold-plated.
Cyrus Blacksmith, Brikk's CEO, says the idea for the luxury Df model came from when Nikon released its own special edition of a gold FM back in 1977. With the Df having been on sale for almost a year now, Blacksmith got tired of waiting for Nikon to release a gold model for today's generation, and decided to produce it himself.
Further details from the company include that all the parts from the camera body and lens that are to be covered in gold are disassembled and hand polished. After being treated with 5 layers of diverse metals, two layers of gold are added that end up measuring between 4 and 5 microns thick. All gold used in the kit is certified to be 24k, and those who can afford the over $41,000 price will get a 1 year warranty from Brikk. Purchasers can also take comfort in knowing that for each Lux Nikon Df sold, Brikk says it will donate "a specific amount" of aid to suffering populations in need via select NGOs.
SOURCE Brikk