Break free from tethered headphones with Magzet magnetic audio jack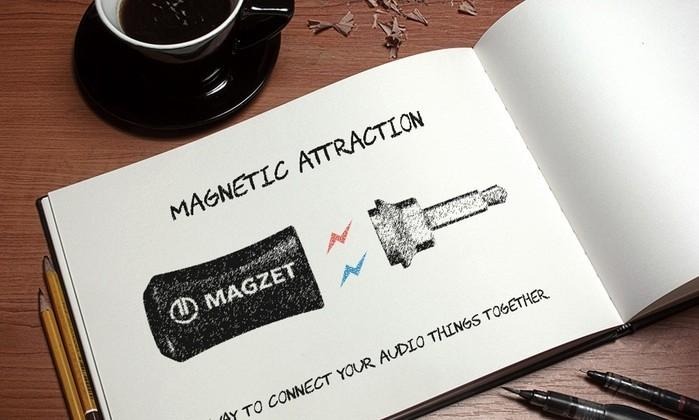 The Magzet is a magnetic audio quick connection that wants to change the way you use audio jacks on all your devices. Instead of being tethered to your laptop, tablet, or smartphone by your headphones, the Magzet is a breakaway connector that can connect headphones to any audio jack. It's designed to work with all audio devices from those ubiquitous Beats headphones to Apple's generic earbuds. After 18 months of product development, the team behind the invention is launching a Kickstarter to crowdfund their magnetic connector.
The Magzet consists of two components, the MAGjack and the MAGkap. The MAGjack can be inserted into any device's audio jack, and the MAGkap is inserted over your headphones' audio connector. Although you might need just one MAGkap, you'll probably need several MAGjacks so that all of your devices from your laptop to your smartphone will be ready for a quick magnetic audio coupling. Magzet plans to sell the components in corresponding ratios, so you'll get enough MAGjacks with your purchase.
As far as technology has come in the past decades, the audio jack hasn't changed much at all. One would think that a magnetically secured audio jack would cause a disruption in sound or lower sound quality, but Magzet is supposed to decrease the static that comes from faulty audio jacks, and deliver the same audio quality as a traditional audio jack. There's no need to plug and unplug your headphones because the MAGjack isn't recognized by a computer or device until the connecting MAGkap is aligned. So, you can leave it in indefinitely without fear of draining your device.
Magzet's crowdfunding goal is a steep $294,000 USD. The developers claim that's their break-even. According to the inventors, the internal workings of the device are costly due to the precision with which they need to be made. Also, Magzet wants to manufacture the product in bulk, so that it can be available at an affordable price to a wide market. They haven't listed an official price, but a set of 1 MAGkap and 2 MAGjacks is available to people who pledge $35.
Check out their video here, complete with ridiculous treadmill falling, device smashing action.
Source: Kickstarter