Brando Wireless Illuminated Super Tiny Keyboard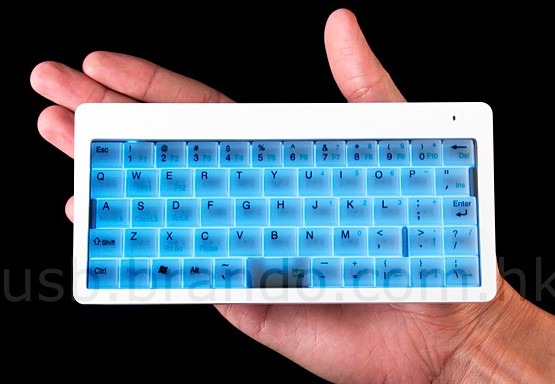 I know how it is; Brando's original Super Tiny Keyboard appeals, but your job watching owls means you need something visible in low-light conditions.  Thankfully Brando have heard your hooting prayers and delivered this, the Wireless Illuminated Super Tiny Keyboard, just 170 x 81 x 15mm but now with some lovely blue backlighting.
As Brando themselves say, "the illuminated design makes it more cyber and useful", and I know SlashGear readers will never argue with something being even more cyber.  56 keys offer up a seriously truncated space bar, but still room for a full number row, and it weighs only 138g so it shouldn't slow you down if the owls turn on you and chase you from the forest.
The USB wireless dongle gives you around 10m range, and the keyboard itself is powered by two AAA batteries.  It's available to order now, shipping by the end of the month, priced at $47.