BRABUS iBusiness Gives Apple Makeover To Mercedes S600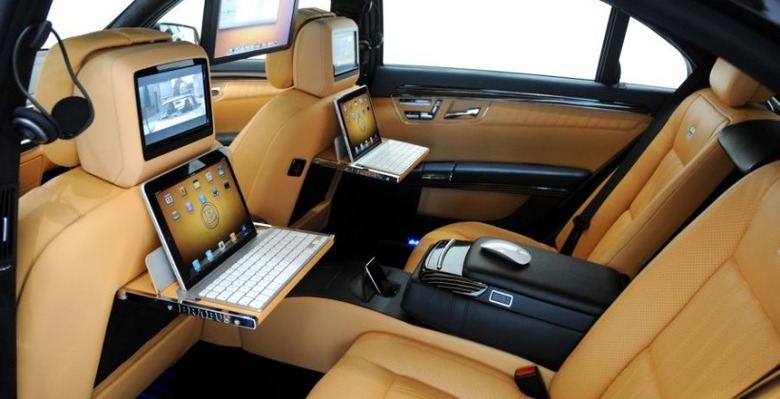 Someone at BRABUS has obviously been spending a whole lot of time at the Apple store, as the German Mercedes tuners' new iBusiness package for the S600 is chock-full of the Cupertino company's kit.  As the name suggests, the BRABUS upgrade turns the S600 into a mobile office: while the chauffeur concentrates on the autobahn, the rear-seat passengers get two iPads, an iPod touch, three displays – including a 15.2-inch flip-down LCD – and a Mac mini to entertain them.
They're all linked up via the car's own network, complete with a UMTS/HSPA cellular data connection, and there's a USB 2.0 hub for plugging in peripherals (though you get a Bluetooth Apple keyboard, Magic Trackpad and Magic Mouse too, all with their own storage slots).  They're not just standalone gadgets, either; BRABUS has integrated the iPads with the S600's COMAND system, responsible for navigation, climate control, phone and A/V.
The rest of the interior is finished in two-tone custom BRABUS leather, with power-operated curtains and color-changing LED lighting; a special iPad nook in the center console lets you hide away the slates when they're not slotted into the portrait/landscape stands in the tray-tables.  As for the S600 iBusiness's grunt, there's a BRABUS SV12 R Biturbo 750 12-cylinder engine good for 0-62mph in 4.0 seconds and a top speed of 211mph; don't be surprised if your iPad is pressed up against your face with the g-forces at that speed, though.  No word on pricing, but this build-to-order Merc is not going to come cheap.
[via Born Rich]