Boys and their toys-the BBQ Train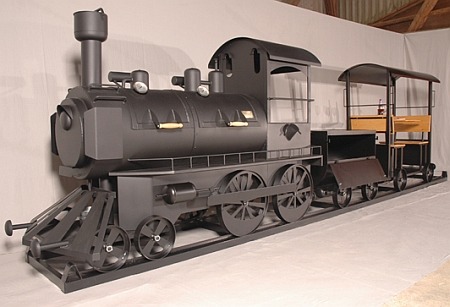 It would seem that little boys never do get over their obsession with trains, and this would be proof of that. Made by Farmer Grill it measures 103 inches long and the whole shebang come to a total of 560 inches. I've heard of having an obsession with your grill but this is taking it a bit far I think. However, I could see how it would be nifty for your restaurant.
The barbecue comes equipped with anything you could possibly need or want. It has a cute little seating area in one of the cars and the grill itself can smoke your food, you can even bake with it. Everything about the train is hand made and tries to come as close as possible to an actual train. This includes sitting on rails. They say on the site you can buy it as is, or they can add cars to the train for you.
The train is being sold on eBay and you can read up on it there, although I hope you speak German. I used a page translator which makes for some funny translations since obviously it is not going to be perfect. Just so you know it comes with a 10 year old warranty, I think it came from a toaster the manufacturer had long ago. That or they meant a 10 year warranty, not a 10 year old warranty. The current bid on it is $12,370.
BBQ Train For Grilling and Dining in Your Backyard [via bornrich]