Boynq Alibi Review - Cute and Fun Webcam-Speaker Combo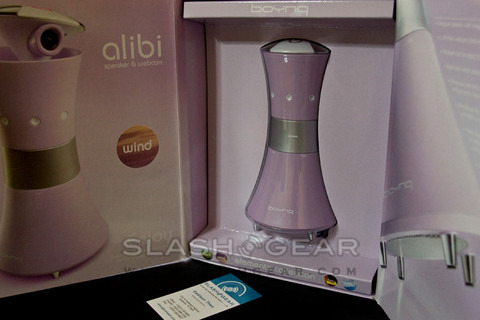 When they can fit a webcam into a milimeter-depth notch in a laptop's screen bezel, a manufacturer would have to be offering something pretty impressive to sell one standing eight inches tall on your desktop. But Boynq are positioning their Alibi unit as something more interesting than a simple way to video chat with your parents; it may be a 1.3-megapixel webcam with integrated speakers and microphone, but what you're really paying for is the design. Like some monstrous limb cinched in with the brushed-finish silver volume band, the Alibi's selling point is its pop-up, twist & rotate camera. SlashGear braved vague and unsettling memories of War of the Worlds and put the Alibi through its very purple paces.
You can't fault the retail packaging: the double-door presentation box is color matched to whichever Alibi you've bought (green, orange, pink or blue), Boynq's glib marketing is very much in attendance and the whole thing would make a satisfying gift. Inside it's accompanied by a manual and USB cable; the Alibi is plug'n'play on Windows XP, but anything earlier will need the drivers downloading from Boynq's site. With no external supply, the Alibi is powered solely from the USB 2.0 connection; so underpowered laptop ports may struggle. However, the mobile market probably isn't going to be offering bag space to the towering webcam, so it's likely a relatively moot point.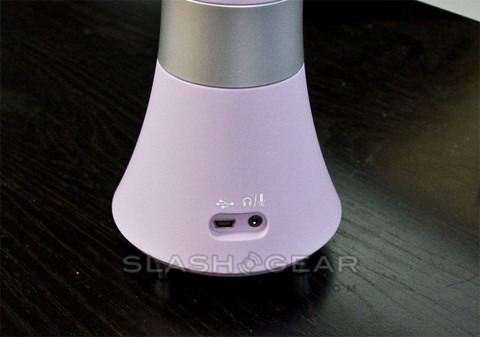 Sadly, for all the design, the Alibi's specs is nothing special: 1.3-megapixels works out to a 640 x 480 VGA image from the webcam, while the speakers – bizarrely placed, what with all that freestanding body available to play with, underneath on the base – croak out a mere 5 Watts. The result is sound on a par with basic laptop speakers, lacking bass at the low-end and clarity at the top-end, and that readily distorts when the volume is turned up.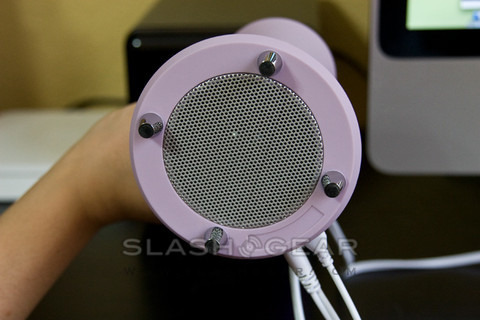 More satisfying was the microphone, which is built into the webcam "eye" pod and directional with where it's pointing, and that captures clear audio thanks to some echo cancellation gubbins and magnetic shielding against interference from cellphones and the like.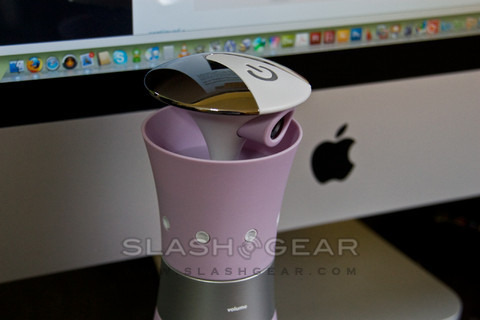 The webcam pod acts as the power button – turning the unit on when extended – which means you can't use it as a temporary privacy feature during video chat (covering up the camera's lens while still continuing audio chat); it also free rotates up to 300 degrees and can be tilted 25 degrees. Sadly the positioning is all manual, not motorized as in some of Creative's high-end webcams. It's a shame, because remote control of the lens might've made the Alibi a great consumer-level video conferencing unit; instead, its sheer bulk means it's actually less convenient than a small, traditional aftermarket webcam that clips to the top of your monitor.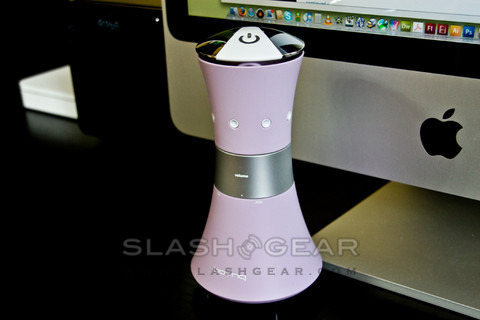 It's tough to recommend the Alibi: those who are looking for a basic webcam (and, at the end of the day, that's all the camera in the Boynq device is equal to) will find something similar for far less than the Alibi's $60 street price, and those who want speakers will be disappointed by the seriously weedy quality. A motorized camera would win it back some kudos, but Boynq would have to achieve that without significantly pushing up the price. As it is, we'd suggest you look elsewhere to get your webcam kicks. If cute and fun factors are your utmost preference, then Alibi might be just right for you.
[rating:2.5/5]